Brookville's public pool has been out of use for more than two years.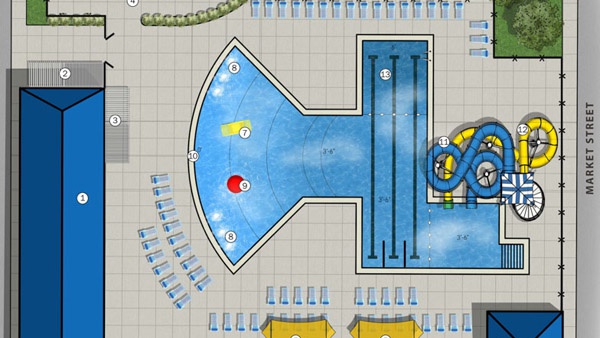 An illustration of the proposed new public pool in Brookville. Image via The Franklin County Observer.
(Brookville, Ind.) - A group has revealed plans for a new public swimming pool in Brookville.
The town's 57-year-old Heap Memorial Pool has been shut down for the past couple summers because of leaks and other problems.
The Franklin County Observer newsletter reports that a committee brought to the Brookville Town Council last week a plan for construction of a new aquatic center. The price tag is $2.4 million for the pool which could include a zero-depth entry, water slides, a bathhouse, and other newer amenities than the current pool.
Town council gave the proposal a vote of confidence. The council authorized the committee to begin raising funds for the pool project.
According to an illustration of the proposed pool, it would be constructed at the site of the old pool at the intersection of High and Market streets.
RELATED STORIES:
Non-Profit Could Help Raise Money For New Brookville Pool
Report: Brookville Pool Will Stay Closed In '17
Brookville Pool Decision To Be Made After Feasibility Study