Brookville has been without a public swimming pool since the end of the 2016 season.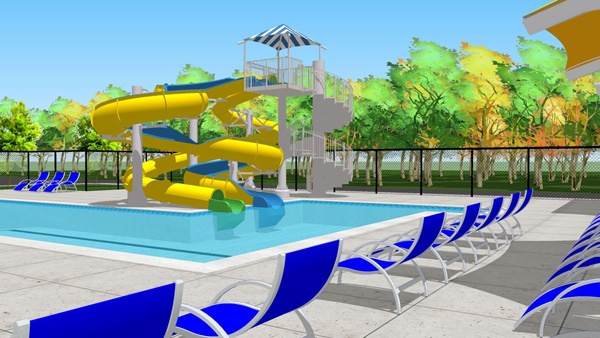 (Brookville, Ind.) – A new aquatic center could be open in Brookville by Memorial Day 2021.
Seeing a new public swimming pool open would be a big moment for town residents that have been without a public pool since the nearly 60-year-old Heap Memorial Pool closed at the end of the 2016 season.
This week, Brookville Town Board selected Indianapolis-based GM Development Companies, LLC as the developer of the $3.7 million project, reports The Franklin County Observer.
A fundraising committee has been working since 2018 to gather donations and pledges to pay for a new aquatic center. Originally, the goal was to raise $2.468 million but cost estimates have increased in the past two years.
The final $3.7 million approved on Wednesday includes construction, development costs and financing. Two-million dollars will be paid by the Town of Brookville, while $1.7 million will come from individual or group donations.
The Town Board says any delay in construction could mean an increase in costs or an increase in loan rate.
Work is scheduled to begin in mid-June with a target completion date by Memorial Day 2021.
More information about the aquatic center project is available at www.brookvilleaquaticctr.org.
RELATED STORIES:
Brookville Pool Fundraising Filling Up Fast, But More Support Needed
Report: New Brookville Pool Proposed For $2.4M
Non-Profit Could Help Raise Money For New Brookville Pool
Report: Brookville Pool Will Stay Closed In '17
Brookville Pool Decision To Be Made After Feasibility Study