About $2 million has been raised toward a nearly $2.5 million goal.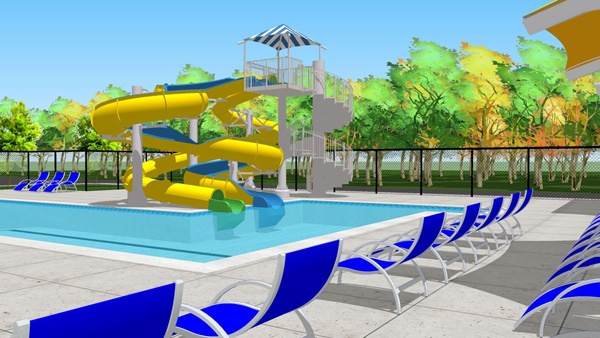 A rendering of the proposed Brookville Town Aquatic Center. Image courtesy of The Campaign for the Town Aquatic Center.
(Brookville, Ind.) – Fundraising for a new public swimming pool in Brookville is getting close to its $2.468 million goal.
The nearly 60-year-old Heap Memorial Pool has been closed since the end of the 2016 pool season. It was fraught with leaks and other problems which made it expensive for the town to operate.
A fundraising committee has been working since last year to gather donations and pledges to pay for a new aquatic center. According to The Campaign for the Town Aquatic Center, about $2 million has been raised as of January 28.
The Brookville Foundation provided a big boost last November when it agreed to match $500,000 in pool fundraising. According to a news release, "The funds pledged by the Brookville Foundation were provided by a bequest to the Brookville Foundation under the Will of Robert J. Hofer. The generosity of Mr. Hofer evidenced his love for the Franklin County community and his desire to have the fruits of his labor returned to benefit future generations."
The Town of Brookville has also agreed to kick in approximately half of the needed funds.
Donations for the Brookville Town Aquatic Center project can be made online to a pass-through fund at the Franklin County Community Foundation at www.franklincountyindiana.com. Those donations are matched, dollar-for-dollar, by the Brookville Foundation.
More information about the aquatic center project is available at www.brookvilleaquaticctr.org.
RELATED STORIES:
Report: New Brookville Pool Proposed For $2.4M
Non-Profit Could Help Raise Money For New Brookville Pool
Report: Brookville Pool Will Stay Closed In '17
Brookville Pool Decision To Be Made After Feasibility Study