Five student-athletes combined to set 16 records during the fall sports season.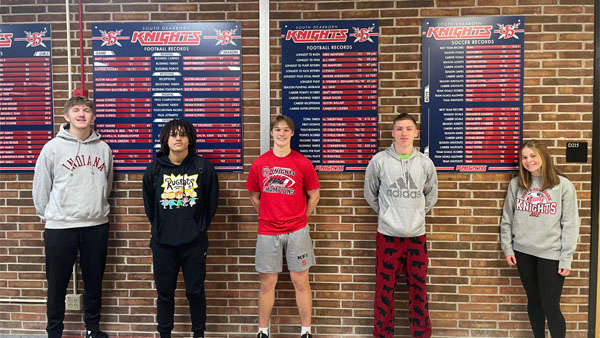 Left to right: Austin Ballart, CJ Evans, Adam Kunkel, Logan Heeke, and Bernadette Wismann. Photo by SD Athletics.
(Aurora, Ind.) - It was a fall sports season full of record-breaking moments at South Dearborn High School.
On Wednesday, five South Dearborn student-athletes updated the record boards. They are Bernadette Wismann, Logan Heeke, Adam Kunkel, CJ Evans, and Austin Ballart.
For Wismann and Heeke, their record-breaking performances came on the soccer pitch. Wismann has the most goals in a single season (32) and most assists in a single season (22).
Heeke's job on the pitch is to stop the opposing team from scoring. This season, he recorded a single season school record with 171 saves, in addition to becoming South Dearborn's career saves leader with 321.
On the football field, Ballart, Evans, and Kunkel starred on offense for the EIAC Small School Division Champs.
Kunkel and Ballart were All-State performers as a quarterback/receiver duo. Kunkel set eight records including: single game completions (33), single game yards (526) single game touchdown passes (6), single game pass attempts (50), season completions (204), season yards (2,253), season touchdown passes (19), and season pass attempts (364).
Ballart caught 56 passes from Kunkel, a school record. The Thomas More commit also set records for career receptions (85), career receiving yards (858), single game receptions (13), and single game receiving yards (197)
C.J. Evans, an electrifying running back, broke the record for a kickoff return, running one back 96 yards.
In total, the five SD stars broke 16 records.
Each made the EIAC All-Conference Team in their respective sports.