Hear the game Friday, November 2 at 7:10 p.m. on Eagle Country 99.3.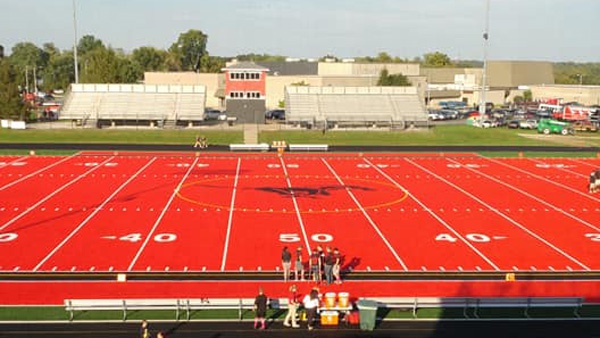 Edgewood High School's red, artificial turf football field will welcome East Central on Friday. Photo by Larry Duke, 95.3 WIKI.
(St. Leon, Ind.) - East Central's Trojans will see red when they visit Edgewood High School in Ellettsville, Indiana on Friday night.
They also hope to see the program's 19th sectional championship trophy hoisted in a postgame celebration.
Third-ranked East Central (10-1) visits the Edgewood Mustangs (8-3) for the IHSAA Sectional 23 championship game. The game kicks off at 7:30 p.m. For those fans who cannot make the 2 ½ hour trip, you can hear pregame coverage on Eagle Country 99.3 starting at 7:10 p.m.
East Central is coming off a controversial win in the sectional semis last Friday, scooting by South Dearborn 9-7 on a last-second Cayden Browndyke field goal. On a must-have 4th-and-15 play on the final drive, the fumbled snap may probably should have had the play blown dead before QB Alex Maxwell's impressive completed pass to wideout Trevor Becker on the sideline.
Now, they head for Edgewood. Just as the Trojans did this past summer, Edgewood High School installed a new artificial turf field.
It's an eye-catcher, for sure. The fake grass is bright red.
EC will hope to keep their eyes focused on the goal – survive and advance to regionals.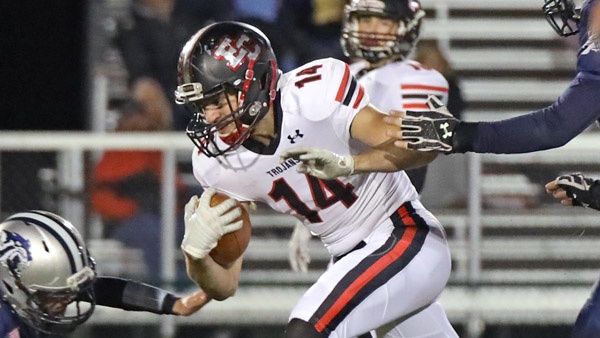 East Central running back Eric Rosemeyer. Photo by Sandy Mahoney.
Maxwell, a senior, is having his best season yet with 1,040 rushing yards and 942 passing yards with 33 touchdowns. Running back Eric Rosemeyer is gaining an average on 9.7 yards per carry for 1,511 yards and 15 scores behind another stellar Trojans offensive line group.
Kyle Krummen has been a leader on the EC defense. The junior is the team leader in tackles (59), tackles for loss (19) and sacks (9). Middle linebacker Brett Fox has 58 tackles. Brothers Gage and Gaar Ertel are wrecking balls as defensive ends.
EC is hoping to continue its march to a second consecutive 4A state championship. They are considered a heavy favorite, having beaten Edgewood last season in the sectional opener 48-6.
But this Mustangs team has turned it around this season after finishing 3-7 last year. Senior running back Levon Bellamy has 1,574 rush yards and 21 touchdowns. He also has eight catches for 211 yards and three scores out of the backfield.
The winner of Friday's game plays the winner of Boonville (11-0) and Evansville Central (10-1) in Evansville in next week's regional round.
East Central would be home no matter the opponent next week, if they can get past Edgewood this Friday.