The funds were raised during a test drive event held in April.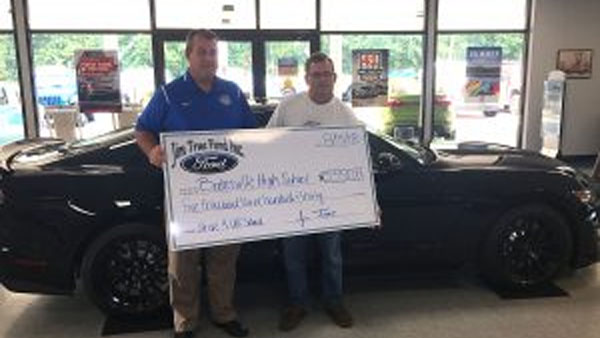 Photo by Batesville Athletics.
(Batesville, Ind.) – A local high school athletic department has received a generous donation thanks to Jim True Ford in Brookville.
This past April, Jim True Ford and Batesville High School hosted a Ford Motor Company Drive 4 UR School event.
The event is a national event in conjunction with local Ford dealers and Ford Motor Company, which offers test drives for a donation of at least $20.
This year, Jim True Ford completed enough test drives to donate $5,330 to the Batesville athletic department.
"We know funding for school programs is hard to come by, and we want to do our part to help make sure programs remain available," said Justin Ward, General Manager at Jim True. "We're excited to raise money for the BHS athletic department."
To date, the Ford Motor Company Drive 4 UR School program has raised more than $35 million dollars for local schools and non-profits.