By making the team, Fox will once again be coached by Kevin Moore.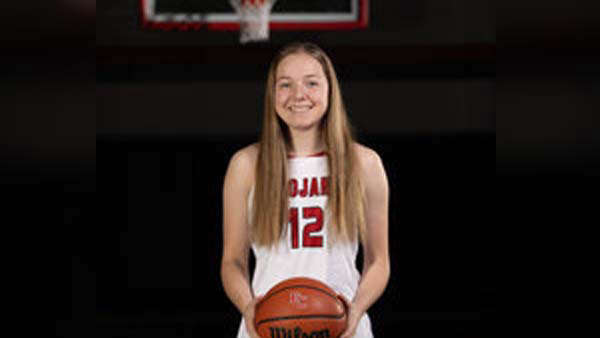 Photo via TROJAN BASKETBALL Home Page (ectrojanbasketball.com).
(St. Leon, Ind.) – For the first time in school history, an East Central varsity basketball player has been named an Indiana All-Star.
Senior guard Hope Fox was selected to the Indiana Girls All-Star Team on Tuesday.
I'm extremely proud of @hopemfox and the career she put together at EC.
3x Sectional Champ (winning matters)
3x EIAC Conf. champ
3x IBCA All-State Selection
3x IBCA Top-100 Selection

And @EastCentralHS first ever Indiana All-Star. She earned this accomplishment!! https://t.co/ETqK24ET3R

— Kevin Moore (@CoachKevinMoore) March 15, 2022
Those chosen to the team will play three games in June, including one exhibition game against the Indiana Junior All-Stars as well as a home-and-home contests against the Kentucky All-Stars.
The Junior-Senior exhibition game is set for June 8 at a site to be announced.
The first game against Kentucky will be June 10 at the Owensboro Sportscenter in Owensboro, Ky. The final game against Kentucky will be June 11 at Southport Fieldhouse in Indianapolis. The games in Indianapolis are at Southport because Gainbridge Fieldhouse is unavailable because of a third phase of renovations will be occurring there during June.
The Indiana senior girls lead the series with Kentucky 51-39.
Fox will be joined on the Indiana All-Star Team by Miss Basketball and UConn commit Ayanna Patterson (Homestead), two Michigan commits in Kate Clarke (Carmel) and Alyssa Crockett (Westfield), Maryland commit Mila Reynolds (South Bend Washington) and Purdue commit Lilly Stoddard (Crown Point).
The Lady Trojans' star will also play college ball at Southern Connecticut State University, and her list of accolades is lengthy.
Some of Fox's senior accolades include IBCA Senior First Team All-State, IBCA Academic All-State First Team, EIAC All-Conference and Team Defensive MVP. She was also selected to play in the HBCA All-Star Classic on April 3.
This season, Fox averaged 14.3 points, 6.3 rebounds, 3.5 assists, and 2.9 steals per game, helping the Lady Trojans to their third-straight sectional championship.
She will leave East Central with the record for most made three-point baskets, three-point field goal percentage, and free throw percentage.
At the Indiana vs. Kentucky All-Star Game, Fox will have the opportunity to once again be coached by Kevin Moore, who was selected to the Indiana All-Stars coaching staff last month.
RELATED STORIES
Trabel Named to IBCA Underclass "Supreme 15", Fox a Senior Large School All-State Selection
IBCA Announces 2021-22 Boys & Girls Academic All-State Teams
EC's Kevin Moore to Coach at Indiana vs. Kentucky All-Star Game
EC's Fox Selected to Play in HBCA All-Star Classic
Area Senior Guards Make HBCA All-District Team
EC Basketball Star Hope Fox Commits To Southern Connecticut State Univ.