The top senior players in southern Indiana are selected to play in the game.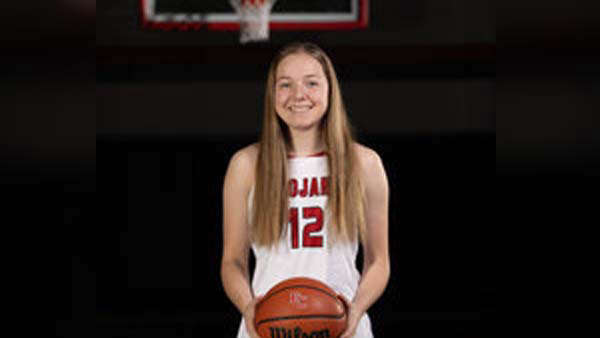 Hope Fox. Photo www.ectrojanbasketball.com.
(St. Leon, Ind.) - East Central High School senior guard Hope Fox will represent her school in the upcoming HBCA All-Star Classic.
Fox was recently named to the Hoosier Basketball Coaches Association 2021-22 District 3 Team. The All-District Teams recognize the best senior players in southern Indiana with about half the players honored being selected to play in the annual All-Star Classic.
On National Girls and Women in Sports Day, Fox was invited to play for the East team on April 3 at Barr-Reeve High School.
She will team with the likes of Koryn Greiwe (Columbus East), Lily Ernstes (Jennings County), Demaria King (Charlestown), and Taylor Lynch (Madison).
Fox's selection to the East team is well deserved. This season, she is averaging 13.7 points, 6.2 rebounds, 3.7 assists, and 3.2 steals per game.
For her career, Fox is among the all-time leaders in program history for 3-point field goal percentage, deflections, free throw percentage, steals, and player efficiency rating. She is just two made 3-point baskets away from breaking Brilan McCory's record of 119.
Fox and the Lady Trojans still have some work to do in the postseason before she starts to focus on the All-Star Classic.
East Central is scheduled to play Bloomington South in the Sectional 14 semifinals on Friday night. The Lady Trojans are seeking their third consecutive sectional championship.
RELATED: Area Senior Guards Make HBCA All-District Team
Our senior All-State guard, @hopemfox was voted onto the team. After the season is complete, she'll take part in the annual HBCA All-Star game. Well deserved honor…even as a Future Trojan, I knew she was going to be a star! 😂 https://t.co/jxzkHf7kxx pic.twitter.com/RUKrEZWrYb

— Kevin Moore (@CoachKevinMoore) February 3, 2022
It feels fitting to announce the HBCA Girls Regional All-Stars on National Girls and Women in Sports Day! See the East and West players we're inviting to play in our annual All-Star game! #NGWSD https://t.co/XyEwrfdK81

— HBCA (@hbca_coaches) February 2, 2022