Players from Lawrenceburg, Switzerland County, and Jac-Cen-Del were also recognized.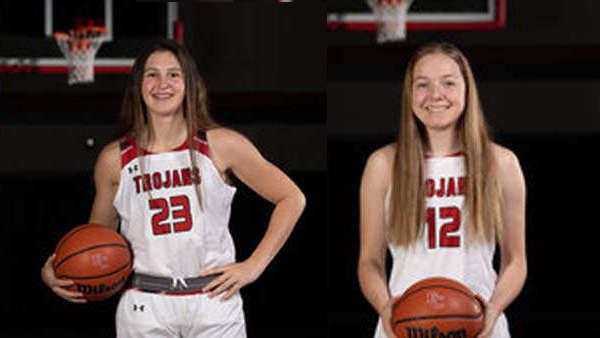 Josie Trabel and Hope Fox. Photos via TROJAN BASKETBALL Home Page (ectrojanbasketball.com).
INDIANAPOLIS - Some of the top girls basketball players in southeastern Indiana have been recognized with all-state honors from the IBCA.
The Indiana Basketball Coaches Association announced their 2021-2022 Girls Basketball All-State teams on Tuesday.
The "Supreme 15" is the top honor for seniors and underclass players. Other honors include the Underclass and Senior Large School and Small School All-State Teams, and Underclass and Senior All-State Honorable Mention.
East Central junior Josie Trabel was named to the Underclass All-State Supreme 15.
Trabel had a big year becoming the all-time leading scorer in program history with 1,353 points. She also set East Central single-season records for points (478), Player Efficiency Rating +/- (868) and Field Goals Made (191).
Her season averages were 17.7 points, 7.2 rebounds, 2.7 assists, and 2.4 steals per game.
Trabel finished her junior season with perhaps the two best games of her career. In the sectional final against Columbus East, she tallied a career-high and school record-tying 36 points. She also finished that game with 11 rebounds. Trabel would post another 30-point double-double in the regional with 31 points and 10 rebounds in a loss to Franklin Community, who lost in the State Title game on Saturday.
Another Trojans' star, Hope Fox, was named to the IBCA Senior Large School All-State Team. She too had a record-setting year, tying the EC single-season record for 3-point field goals made with 45.
Fox now has three career records for most 3's made (126), best 3-point field goal percentage (37%), and free throw percentage (70.8%).
For the season, Fox averaged 14.3 points, 6.3 rebounds, 3.5 assists, and 2.9 steals.
She will continue her playing career at Southern Connecticut State University.
Other local players receiving recognition include:
Kirsten Cross, Lawrenceburg – Senior All-State Honorable Mention
Jessie Duvall, Switzerland County – Senior All-State Honorable Mention
Annabelle Williams, Jac-Cen-Del – Senior All-State Honorable Mention
Annika Marlow, Rushville – Senior All-State Honorable Mention
Mylie Wilkison, Greensburg – Underclass All-State Honorable Mention
The IBCA/Franciscan Health All-State teams are selected through a process organized by the Indiana Basketball Coaches Association and presented by Franciscan Health Sports Medicine.
All IBCA-member head coaches have the opportunity to nominate players. A panel of 20 IBCA coaches -- 16 from the current regional areas, three district representatives (one each from IHSAA Districts 1, 2 and 3) and the committee chairman -- then meets to review the nominations, vote and finalize the selections.