Both also showed out in their respective competitions.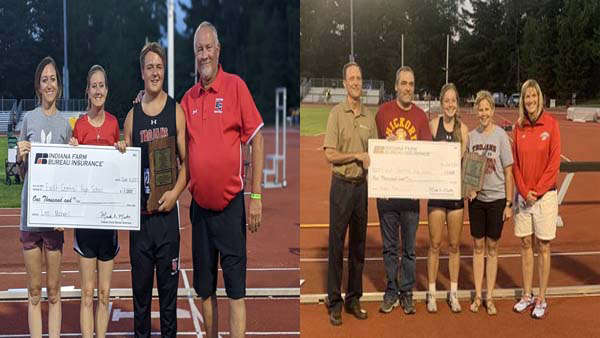 Photos provided.
(Bloomington, Ind.) - Two East Central High School student-athletes were recognized for their demeanor at the IHSAA Track & Field State Finals.
Last Friday, Hope Fox was named the Mental Attitude Award winner at the Girls Track and Field State Finals. A day later, classmate Leo Maxwell, received the same award following the boys competition at the state finals.
The award is given to one student-athlete per state competition that demonstrates great mental attitude toward coaches, training, teammates, opponents and officials.
Other qualifications for the Mental Attitude Award include:
Excel in mental attitude, athletic ability, scholarship and leadership during the four years in high school.
Be a state finalist participant in the sport nominated.
Be selected by members of the IHSAA Executive Committee.
Meet minimum academic requirements of one of the following:

a. S.A.T. of 1000 (Verbal & Math scores only) or;
b. A.C.T. of 21 or;
c. Class rank in top 25%
Fox placed 23rd in the 300 Meter Hurdles, 25th in the Long Jump and 21st as a member of East Central's 4x100 Meter Relay team. Maxwell placed 5th in the Shot Put with a throw of 59-02.75.
As recipients of the mental attitude award, Fox and Maxwell were presented with $1,000 scholarships to East Central in their name.
Previous Mental Attitude Award winners from East Central are:
2007-08, Boys Swimming & Diving, Kyle House
2007-08, Softball (4A), Kallen Hovland
Wow! I'm not sure this has ever happened before! East Central took home both mental attitude awards this weekend! We have only had 4 mental attitude award winners in our school history. We are so excited to add these 2 to the list! We are so proud of them!@ECTrojanSports pic.twitter.com/sNiOI63OZg

— Ashley Andres (@ECentralTrack) June 5, 2022