"An ounce of prevention is worth a pound of cure." – Benjamin Franklin.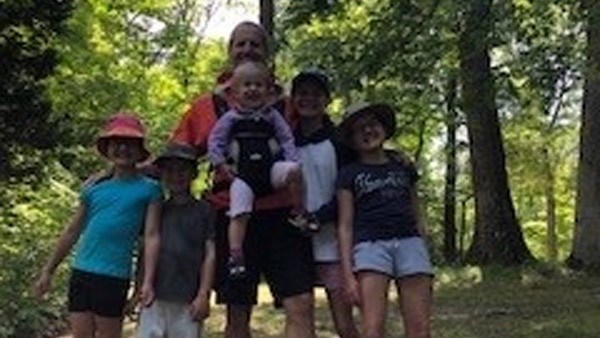 Joe Ehrhard with his five children. Photo provided.
Lately, we have equated that phrase with vaccines and disease prevention. However, Franklin actually wrote it to shine a light on the fact that preventing fires is better than fighting them. Since then, people have said/used the phrase to illustrate that planning and preparation are important. The professionals at Beacon Orthopaedics & Sports Medicine could not agree more. Preventing getting hurt in the first place is infinitely better than being treated for that injury later.
Covid-19 pushed us all toward technology. Whether working remotely, attending class via Zoom or just binge-watching shows on Netflix, the virus dictated how often and how closely we should even stand near others. Now, as we have begun to come out into the light of day, we have begun to play again. How can we do that in the healthiest ways possible? "I have five children myself," said Joe Ehrhard, a physician assistant and athletic trainer, at Beacon since 2005. "I know firsthand the struggles parents face – especially during the pandemic – to keep everyone healthy. Concentrating on nutritious eating and purposeful activity are the best gifts we can give to our kids." That advice was true during the lockdown and it remains true now.
Ehrhard offers some tips to parents for re-creating healthy habits as we come outside to play again. These habits will also help keep them healthier as they grow. The idea is to teach them to eat and move every single day. This can help young people avoid getting sick or injured in the first place. Cultivating a healthier body while young will give them the building blocks to stay healthy as they grow and compete at higher levels. It will also enable them to actually prevent injury as they age.
So, while they are young:
· Choose outdoor programs that encourage daily physical activity and healthy eating
· Take advantage of local resources (e.g. community pools and recreation centers)
· Provide toys that inspire active play
· Keep healthy snacks readily available
· Be active with your child
· Limit "screen time" – especially during daylight hours
· Make healthy food with your child
As they grow into young athletes:
· Teach them how to recognize true injury and that asking for help early is smart · Always get a pre-season sports physical
· Encourage cross-training and playing a variety of sports
· Explain importance of a good warm-up and cool-down
· Promote sufficient rest and a healthy diet
· Stress hydration
· Be sure they use proper equipment and proper technique
As parents, we want to provide our children with opportunities for growth. Teaching the skills of a sport is just one way to do that. Teaching sportsmanship and leadership are two more. Ehrhard adds that teaching them how to properly prepare and take care of their most important piece of equipment – their bodies – is the best preventative medicine any parent can offer. "Young athletes learn so much from their parents and coaches at this critical time in their lives," he said. "Why not teach them how to prevent that future injury if you can?"
If you or someone you love needs to talk with a medical professional about safe and healthy living for young people, Clinical and Diagnostic appointments are available at Beacon West, Lawrenceburg and Batesville, along with Saturday morning injury clinics, as well and urgent care at Erlanger and Summit Woods.
Go to www.beaconortho.com or call 513-354-3700 for an appointment. All 13 Beacon locations are seeing patients. Striving to ensure patient and staff health, Beacon offers Telehealth Video Visits and when seeing patients in person, they are using all approved safety protocols, including temperature checks, masks, hand sanitizing. Providing a safe environment to diagnose and recommend the next steps for any injury is always the right thing to do.