The Tigers return plenty of varsity experience under new head coach Brad Cutter.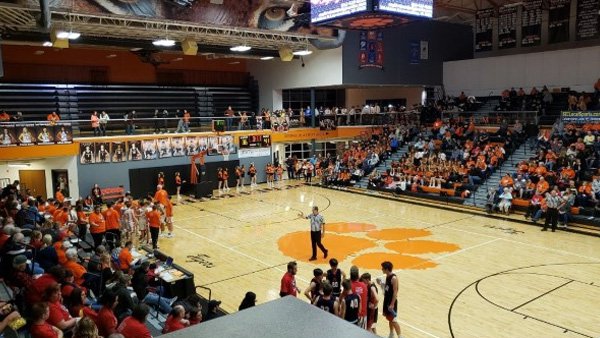 Photo by Travis Thayer, Eagle Country 99.3.
(Lawrenceburg, Ind.) – Experience, talent and familiarity are a few of the things Lawrenceburg has going for them as their 2020-21 season begins this week.
This year's Tigers team has had to go through some adversity to get their season started. The football team's success made tryouts tough, plus the COVID-19 pandemic has been impactful. Still, the Tigers are primed to build off a winning season in 2019 under new head coach Brad Cutter.
Cutter, who served as an assistant coach last season, replaces John Blackwell, who spent eight seasons coaching at his alma mater. Cutter tells Eagle Country 99.3 the transition from assistant to head coach has been rather smooth, all things considered.
"I've had a lot of support from administrators, our fellow coaches, and our players here," said Cutter. "It's been pretty seamless for everything that we've had to deal with, with COVID and school being in and out. It is what it is, we just take everyday as the next day we are privileged to be in there."
Cutter inherits a team that went 12-11 last season. That team graduated four seniors, including Mitch McCool, Kamar Chenault, Andrew Rennekamp, and Gavin Yoon.
"We lost 31, almost 32 points per game between our four seniors," said Cutter. "That's always difficult to replace, but the nice thing for us is that we have a nice core of juniors."
Garrett Yoon returns as the Tigers' top leading scorer at 8.8 points per game. Dahya Patel, Jackson Bobo, and Ashton Craig round out the junior class. All four played big roles a season ago and will be relied upon to produce in all facets of the game this season, but Coach Cutter says nobody should sleep on the Tigers' seniors.
"I don't think anybody should overlook our seniors. We've got Reece Denning and Adam Burd back with varsity experience. We have Logan Scalf coming up from the JV team. He's been a four-year program guy," said Cutter.
HEAR DOUBLE T'S FULL INTERVIEW WITH COACH CUTTER IN THE AUDIO PLAYER BELOW
Jon Askins rounds out the senior class. He is new to the program and hasn't played organized basketball since the 6th grade, but he is a welcome addition to the squad.
"He showed up to tryouts and a couple open gyms this fall. He just loves being part of the team and has a great attitude everyday," said Cutter.
The Tigers hope to get contributions from their sophomore class as well. Andrew Myers, Aiden Delatte, and Logan Rohrer will look to break onto the scene in 2020-21.
"We're really balanced, or have the potential to be," said Cutter. "We've got some size, we've got some speed. We hope to be inside out, we don't want teams to be able to focus on one guy."
Lawrenceburg was supposed to start their season on December 1 against Franklin County, but COVID-19 interrupted the start of the season. The Tigers will play meaningful games right from the get go with two conference games scheduled before the end of the month.
"Our EIAC conference this year is very strong in my opinion. Every team has one or two guys back that can put the ball in the hole. Every team is well-coached. Looking forward to it, obviously every game is going to be a challenge and that's only going to make us better because we have to turn around and play the same teams in our sectional."
Lawrenceburg has not won a sectional championship since 2009. When asked about what it takes to compete for a sectional title each and every season, Coach Cutter said its starts with schedule strength.
"You go play tough teams during the season and that is going to help you in the postseason," Cutter added.
Lawrenceburg begins their season on Friday at Batesville. Tip-off of the varsity contest is scheduled for 7:30 p.m.