Both teams are fundraising for the trip to the World competition in Dallas.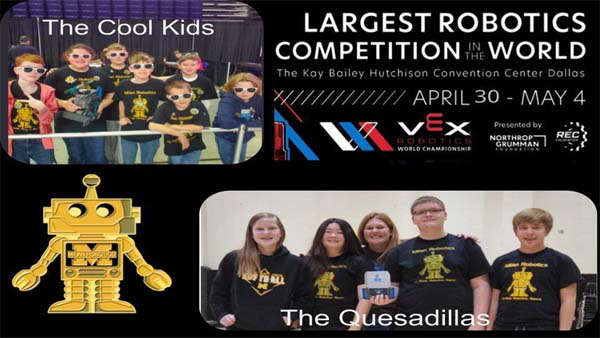 Photo provided.
(Milan, Ind.) - Two of Milan's robotics teams have qualified for the World VEX Robotics competition in Dallas, Texas, in early May. The teams were notified after the state competition at Lucas Oil Stadium in Indianapolis on Saturday, March 25.
Milan Middle School's team, Quesadillas, and Milan Elementary's team, The Cool Kids, are currently fundraising for the trip to the World competition. The teams qualified based upon their autonomous programming and driving skills challenge .
The Quesadilla team members are: Logan Bruns, Jesse Hampton, Kaitlynn Hicks, and Mallory Hunter.
The Cool Kids team members are: Liam Grove, Hunter Hartman, Makenna Hartman, Conor Hileman, Nickalous Kunder, Auden Rohrer, and Kyle Zacharias.
Prior to the state competition, Milan's robotics teams were honored to be featured in a promotional video created by the Indiana Department of Education. The video may be viewed on the Milan Community School website at www.milan.k12.in.us.
Both teams are coached by Brandy Hicks, a long time STEM teacher at Milan Community Schools. Coach Hicks commented, "These teams are ready to take on WORLDS. It's amazing what kids can do when given the opportunity. This year's success really emphasizes that we have a program at Milan that is setting our kids up for a bright future in programming and engineering that is world class."
Many parents and volunteers are also helping with the teams including transporting the playing field and the robots, securing donations, decorating the team's preparation area at the event, and providing spirited swag including robot pins. Mrs. Hicks especially thanked Tyler and Zarah Hileman for their donation and decorations for the state competition.
Many local businesses have donated to sponsor the team's trip to Texas. Purdue's INMaC program has donated as well as the Genesis Pathways to Success, part of the Ripley County Community Foundation.
Milan's robotics program has been in place for four years. Last year was the first year a team qualified for the World competition. Milan Robotics is part of the Southeast Indiana league and is now involved in talks with other Ripley County schools to begin a league here.
VEX Robotics is a robotics program for elementary through university students, and a subset of Innovation First International. The VEX Robotics competitions and programs are managed by the Robotics Education and Competition Foundation.
RELATED STORIES
Manchester Elementary School Robotics Teams Advance to World Championship