The debut of the Vevay Antique & Collectible Flea Extravaganza will take place a day prior.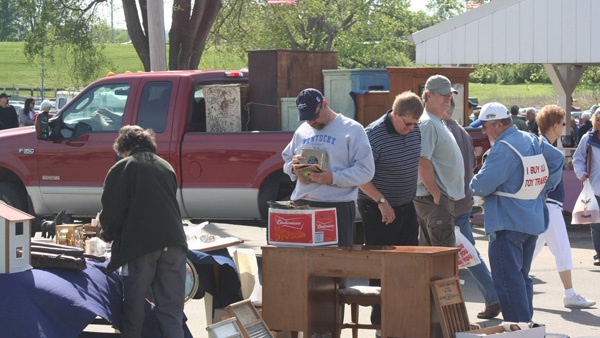 (Lawrenceburg, Ind.) - The Tri-State Antique Market returns to the Lawrenceburg Fairgrounds on August 1st, and the day before on July 31st will be the debut of the Vevay Antique & Collectible Flea Extravaganza just down the road in beautiful Vevay, Indiana. Now in its 36th season, the Tri-State Antique Market has been a regional attraction for home decorators and collectors of antique and vintage goods for several years, and with the addition of the event in Vevay is poised to turn southeast Indiana into one of the premier antiquing destinations in the Midwest.
Also, the Tri-State Antique market will be partnering with the WorthPoint organization to host a treasure hunt at the show on August 1st. WorthPoint is a national organization that hosts treasure hunts at premier antique shows across the country, so this is a unique opportunity to learn to pick like the pros from some of the best in the business. Participation in the treasure hunt is free but registration is required at www.worthpoint.com/page/treasurehunt.
The Lawrenceburg Fairgrounds is conveniently located in southeast Indiana, approximately one mile west of exit 16 off I-275. The location is within minutes of both the Ohio and Kentucky borders. Full of quaint, country charm complete with shaded groves and large open-air pavilions. The five acre park also offers many modern amenities including paved walks, contemporary restrooms, free parking, and a variety of food vendors at all four corners of the midway.
Official Market hours are from 7 AM to 3 PM ET. "Earlybird" shoppers are admitted during vendor set up at 6 AM ET. A walk-in $4.00 adult admission is charged at all times. Attended pets are welcome, and the Market is held rain or shine.
Information about the Vevay Antique and Collectible Flea Extravaganza can be found at www.switzcotourism.com, and complete Tri-State Antique Market information is available at www.lawrenceburgantiqueshow.com and the Facebook page under TriState Antique Market, or by contacting promoter Aaron Metzger at (513)702-2680 or info@lawrenceburgantiqueshow.com. Later 2021 Market dates include Sundays September 5 and October 3.