This year's presentation will be held virtually on February 4.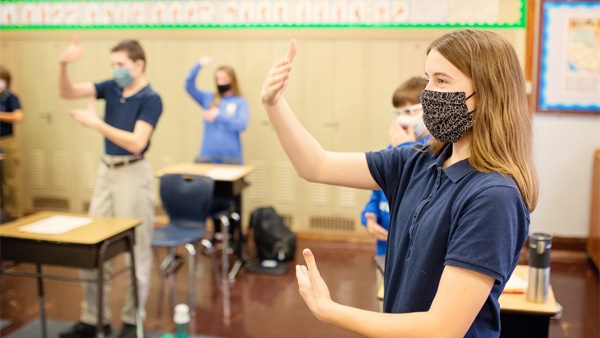 Photo provided.
(Lawrenceburg, Ind.) - St. Lawrence School will host its annual open house this year – with a twist. This year's presentation will be held virtually on February 4, 2021 from 6:30 p.m. to 7 p.m. Key school leadership will be presenting an overview of the school and curriculum as well as be on hand to answer questions and provide information for interested families.

"In these unprecedented times, we knew we still wanted to provide a space for families interested in learning more about our amazing school but to do so in a way that keeps our students and our community safe," said Principal Robert Detzel. "St. Lawrence is a special place and is dedicated to the safety and success of our students – both current and future."

St. Lawrence School offers a high-quality and best in class education for students in preschool through 8th grade. The school features a diverse curriculum, a state-of-the-art STEAM lab and a faith-formation foundation for students.

The open house will take place online through a video-streaming service so interested families can participate from the safety and comfort of their homes. Further information and event details can be found by visiting the school's website: www.stlschools.com/open-house

The event coordinates with the annual celebration of National Catholic Schools Week, which is the celebration of Catholic education in the United States. It starts the last Sunday in January and runs January 31 – February 6. The theme for National Catholic Schools Week 2021 is "Catholic Schools: Faith. Excellence. Service." Schools typically observe the annual celebration week with Masses, open houses and other activities for students, families, parishioners and community members. Through these events, schools focus on the value Catholic education provides to young people and its contributions to our church, our communities and our nation.