The group is planning more community service events during the winter and spring semesters.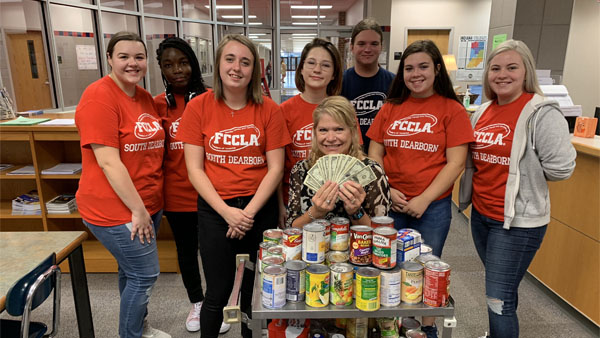 (Aurora, Ind.) - With the holidays upon us, students with South Dearborn High School Family, Career and Community Leaders of America (FCCLA) are continuing the tradition of giving back to the community through community service projects.
Recently, members of South Dearborn High School FCCLA conducted a Food Pantry Drive for South Dearborn High School's in house food pantry, to give back to our students at the time when they need it the most. Coordinating with the Guidance Department, our students set out to collect canned goods to donate to the pantry. On October 31st, 2018 (Halloween), FCCLA members went throughout the building to pick up donations from students all across our school, and the student body came out in fine fashion to help their own. When the collection was complete at the end of First Period that morning, FCCLA members had collected one cart full of canned goods and $70.00 that was donated to the South Dearborn High School Food Pantry.
Then, in the beginning of November, FCCLA members traveled to The Waters Nursing Home in Dillsboro and spent some time with the residents there, and also participating in different activities with them. During their time at the Nursing Home, students donated fleece blankets that they had made at the Indiana FCCLA District 12 Fall Meeting for part of the community service project for the meeting. Once at the nursing home, students sat and talked with residents, gave everyone a fleece lap blanket and also made Peanut Butter Pine Cone Bird Feeders with the residents. Through this, students are learning the benefit of giving back to their community through different actions. "The best way to find yourself is to lose yourself in the service of others", says Bryan Schuerman, M.Ed., Chapter Adviser. "Through cooperation, students are learning essential skills for life, which includes helping others."
As we head into the winter months, students are planning other community service projects that will take place in the Winter/Spring Semester.
Family, Career and Community Leaders of America is a dynamic and effective national student organization that helps young men and women become leaders and address important personal, family, work and societal issues through Family and Consumer Sciences Education.