Attendees will be treated to a showing of Grease.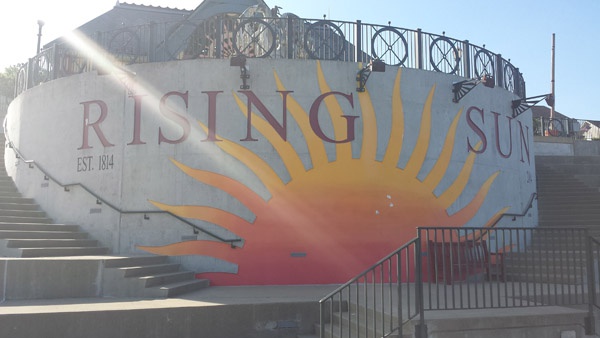 (Rising Sun, Ind.) - The Ohio County Convention, Tourism, and Visitors Commission, in conjunction with Rising Sun Main Street, will host a Drive-in Golf Cart Movie on Main Street in Rising Sun on Friday, September 21, 2018.
The event takes place after the free performance of the Acoustic Blue Trio during Rising Sun Main Street's, Music on Main and Cruise-in. The cruise-in is from 6-10 p.m., with live music from 7-9 p.m. All events are free and open to the public.
Grease, starring John Travolta and Olivia Newton-John, will be shown around Main and Poplar Streets at dusk, after the conclusion of the live music. The movie is rated PG.
Razors, bicycles, and walkers are also invited to attend the movie. Attendees are encouraged to decorate their vehicles and themselves in 1950s style. Moviegoers should supply their own chairs, blankets, singing voices, and dancing shoes.
All golf carts and razors must be registered with the City of Rising Sun.
"This is a new venture for tourism," said Kendal Miller, executive director of Ohio County Tourism. "The golf cart drive-in concept is not new. After the success of Rising Sun Main Street's recent Golf Cart Parade during the Fourth of July festivities, tourism thought it worth revisiting." The tourism board will determine if they want to make the Drive-In Golf Cart Movie event a series for 2019.
The first 30 golf carts or razors in attendance for the movie will receive a free pair of plush fuzzy dice. Free popcorn and song lyrics will be available while supplies last. Rising Sun Church of Christ will be selling water and soft drinks as a fundraiser for a mission trip.
Some local restaurants and the American Legion will be open to the public to purchase food and adult beverages.
In the event of inclement weather, the movie will be rescheduled.
For more information, contact the Ohio County Tourism Visitors Center at (812) 438-4933 or log-on to enjoyrisingsun.com. Rising Sun/Ohio County Tourism is on Facebook, Twitter, and Instagram.