Crews will be working on railroad refurbishment from Holton to Milan, and in Osgood.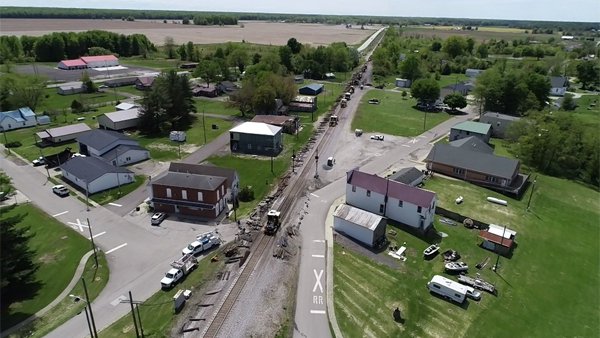 Ripley County Indiana EMA Facebook photo.
(Ripley County, Ind.) – A railroad refurbishment project is underway in Ripley County.
CSX Railroad announced Tuesday that all road crossing at the CSX rail line in Holton will be closed due to railroad refurbishment.
Work includes replacing crossties, spikes, plates, ballast refurbishment, and grade repaving and renewal. CSX is working their way eastward through Ripley County, from Holton towards Milan.
As work progresses east, motorists should expect more grade crossing closures.
Due to the comprehensive nature of the refurbishment, over 20 vehicles are required on the track, including support vehicles, and over 75 personnel.
In addition to the work between Holton and Milan, CSX Railroad plans to close U.S. 421 crossing in Osgood on or after Monday, May 17.
The road will remain closed during repairs and is expected to reopen by the end of the day Saturday, May 22.
According to INDOT, the official detour will follow State Road 350 to State Road 129 to U.S. 50.
All work is weather dependent.