After months of campaigning, the results are in.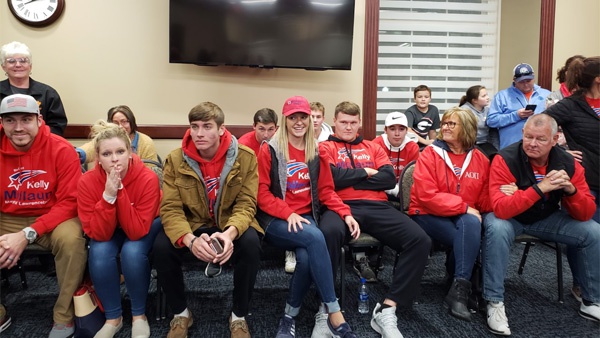 City of Lawrenceburg Mayor Kelly Mollaun (far right) and family await the election results. Photo by Travis Thayer, Eagle Country 99.3
(Lawrenceburg, Ind.) - After months of campaigning, the results are in.
Voters went to the ballot box on Tuesday to vote in the 2019 General Election.
In Dearborn County, there was a 26 percent turnout, down from 29 percent in 2015.
One of the biggest races on the ballot was for Mayor of Lawrenceburg. It was incumbent Republican Mayor Kelly Mollaun winning the race with 54 percent of the vote. Democrat Aaron Cook followed with 39 percent and Independent Dylan Liddle received seven percent of the vote.
"This goes to show you that the people of Lawrenceburg base their choices on action and not by words. All the negativity that was coming out, the people spoke tonight. I feel very fortunate, I feel very honored to get a second term. I look forward to working with the council, the new council. I want to congratulation Aaron Cook and Dylan Liddle as well for running their races. I couldn't be happier."
That new council that Mayor Molluan spoke off features four new faces. Back is Tony Abbott, who won the District 1 seat. He will be joined on council by Republicans Justin Noppert, Thomas Rowlett Sr., Lennie Fryman and Brett Bondurant.
Those men, along with Mayor Mollaun, will continue Mollaun's vision for Lawrenceburg.
"The vision is pretty simple, to continue what we've been doing," said Mollaun. "That is not only revitalize downtown and revitalize Lawrenceburg in general, but we got work to do up on the hill. I heard everybody as I was campaigning. Part of the vision going forward is we know we need more affordable housing, more senior housing. We know we need more stores and restaurants down here. It's all in the vision."
Another big race in Lawrenceburg was for Clerk Treasurer. Republican Mark Fette unseated Democrat Richard Richardson by receiving 57 percent of the vote.
In Aurora, Republican Mark Drury defeated Melvin Kramer Jr., to become the new Mayor. Drury got 56 percent of the vote.
Aurora City Council will be made up of John E. Borgman, Joey Turner, Terry Hahn, Frederick Lester and Patrick Schwing.
City of Greendale Mayor Alan Weiss will serve four more years after running unopposed.
Council winners in Greendale include Walt Wilson, Jerry Abbott, Rebecca Barhorst, Kurt Mollaun, Mooch Hamilton, A. Vincent Karsteter and Erin Marqua.
See a full list of local election results on our Indiana Votes 2019 page.