Congratulations Jim. A well-deserved honor!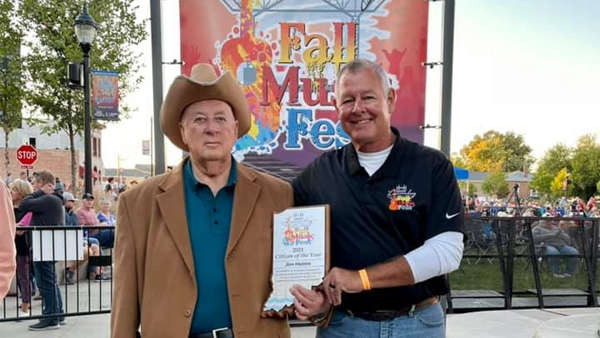 Photo by Eagle Country 99.3.
(Lawrenceburg, Ind.) – A familiar face was recognized for his dedication to the area at Lawrenceburg Fall Music Fest.
Jim Helms was named Fall Music Fest 2021 Citizen of the Year.
The award honors individuals that demonstrate outstanding community activism and dedicated regional support for the citizens of the City of Lawrenceburg and southeast Indiana.
Jim has certainly shown his dedication to the area throughout his life. His education career spanned 51 years, and he has spent approximately 60 years in the music and entertainment business, including his role as co-host of the Golden Eagle Saturday Morning radio show at Eagle Country 99.3.
Helms has also been the longtime MC of Music on the River, among other events in Lawrenceburg.
"I've enjoyed everything I've every MC'd down here," an emotional Helms said. "When I heard my name, I was shocked. What else can I say other than thank you."
City of Lawrenceburg Mayor Kelly Mollaun had the honor of presenting Jim with the award on the Civic Park stage during Day 2 of Lawrenceburg Fall Music Fest.
"Jim has done a lot for our community, and I'm honored and proud to call him my friend," said Mayor Kelly Mollaun. "Jim is a very well-known, well-respected person throughout the state, as well."
See the Citizen of the Year announcement in the video player below. Starts at 8:38 mark.