Lawrenceburg Mayor Kelly Molluan stopped by Thursday to talk about the latest happenings in the City.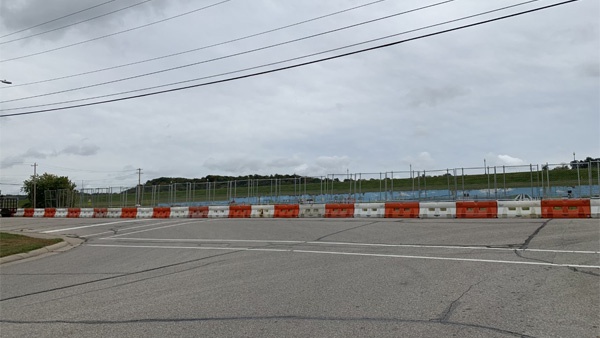 This site near the end of High Street in Lawrenceburg will soon be the home of a new apartment complex. Photo by Melissa Murphy, Eagle Country 99.3.
(Lawrenceburg, Ind.) - There are some exciting things happening in the City of Lawrenceburg.
Mayor Kelly Mollaun stopped by Eagle Country 99.3 on Thursday afternoon to talk about the latest happenings within the City.
The first topic was the success of Lawrenceburg Fall Music Fest, which was held in the Civic Park for the first time.
"It exceeding our expectations. We were so happy. A lot of great feedback, lot of great music, a lot of great money was made by the Sons of American Legion for scholarships and things like that. I think everybody had a good time," said Mollaun.
Mollaun added that the City received a lot of great feedback on the venue, and stated that Fall Music Fest will return to the Civic Park in 2021.
"Planning will start after the first of the year," said Mollaun.
Topic two was the upcoming Bielby Road blockade. Bielby Road (Old SR #48) will be closed between Riviera Drive and Heiner Heights starting Friday, October 9. The temporary closure may last up to one year.
The City recently decided to block a portion of the road at a slide spot until proper repairs can be made.
Mayor Mollaun also gave an update on a new apartment complex on High Street. The mayor hinted that the complex may be called the Whiskey River Apartments or Whiskey Rive Complex. Although an official name has yet to be determined.
A tentative groundbreaking is set for October 26.
The 150-unit apartment complex overlooking the Ohio River will feature a pool and a boardwalk connecting to the river levee and Dearborn Trail.
"That could equate to a little over 200 extra people dining, shopping, enjoying our downtown and our area, so we are excited," said Mollaun.
The complex will not include any commercial spaces as it would have required extra square-footage. Instead the bottom portion of the complex will feature a parking garage.
Molluan expects that residents will start moving into part of the complex in 18 to 20 months. The entire project could be completed in approximately two years.
More details are expected to be released in the coming weeks.
And lastly, elected officials will be made available at two community cookouts on Saturday, October 10 from 11:00 a.m. to 1:00 p.m. at Todd Creech Park and Saturday, October 17 from 11:00 a.m. to 1:00 p.m. at Ludlow Hill Park.
"We want people to stop by and ask questions and give us some feedback, comments, whatever and grab a burger," said Mollaun. "We want to hear the good, the bad and the ugly."
HEAR DOUBLE T'S FULL INTERVIEW WITH MAYOR MOLLAUN IN THE AUDIO PLAYER BELOW
RELATED STORIES:
Temporary Barricade Planned At Old State Road 48 Slide Site
L'burg Council Wants New Apartments, But Should The City Borrow To Pay It's Half?
Lawrenceburg Council Gives Green Light To River Levee Apartment Development
New Lawrenceburg Civic Park Could Lure More Downtown Investment
$30M Apartment Development Could Be Coming To Lawrenceburg's Riverfront