The governor sees the 25-mile connector as transformational.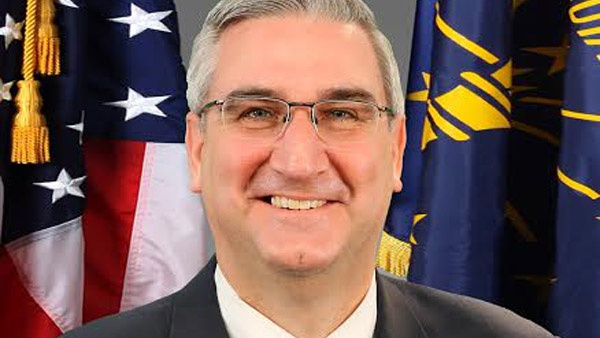 (INDIANAPOLIS) – Governor Eric Holcomb sees the planned extension of State Road 101 as transformational.
The governor joined Eagle Country 99.3 morning host Robb Reel on Tuesday morning to talk about three major infrastructure projects planned throughout the state, with an emphasis on the State Road 101 extension.
It was announced Friday that the state will dedicate $475 million for three projects, including approximately $200 million to build a 25-mile extension of State Road 101 to connect with the existing portion of the highway at U.S. 50 near Milan and the Ohio River Crossing at Markland Dam in Vevay.
"It's going to be good not just for your region and your listeners, but really for the whole state of Indiana," said Holcomb. "It has everything to do with safety and commerce and being connected to the markets all over the world, ultimately. This is really transformational. I couldn't be prouder because it is going to connect multiple counties, multiple states."
HEAR ROBB REEL'S FULL INTERVIEW WITH GOVERNOR HOLCOMB IN THE AUDIO PLAYER BELOW
The SR 101 extension is a brand-new, from scratch connector that will help pull workforce from the whole region in a safer way, the governor added.
This project has been decades in the making. Finally, the state is at a place where they can fund the project.
Governor Holcomb tells Eagle Country 99.3 that INDOT's budget has grown from $2.2 billion in 2017 to $3.6 billion in 2021.
"We are paying for it because our revenues allow it, and it is just as simple as that. We live within our means. We've been very disciplined about living within our means and not spending money we don't have."
The governor could not provide a timetable on how long it will take to build the 25-mile connector. He did say work will start immediately to design the route.
Initial projections estimated construction could take 10 years to complete.
State Rep. Randy Frye (R-Greensburg) released the following statement:
"Southeast Indiana is poised for economic growth and development, and this historic investment in our local roadways will propel our communities forward. We are capitalizing on our proximity to the Ohio River and connecting our communities, and I look forward to these transformational improvements as we hit the accelerator on job and business growth in our corner of the state."
RELATED STORIES
Gov. Holcomb Announces $475 Million in Transformational Infrastructure Projects
State Road 101 Extension Proposed To Ohio Co. Commissioners