State Rep. Randy Frye (R-Greensburg) gave Eagle Country 99.3 the details on Thursday.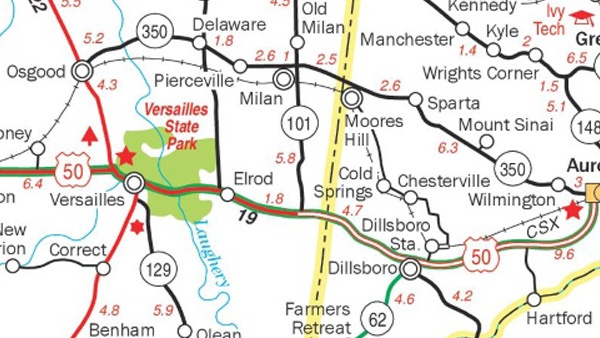 (Lawrenceburg, Ind.) – An extension to State Road 101 is being considered in southeastern Indiana.
State Rep. Randy Frye (R-Greensburg), State Senator Chip Perfect (R-Lawrenceburg) and the Indiana Department of Transportation presented the idea to Ohio County Commissioners on Monday.
The proposal would initially extend State Road 101 from U.S. 50 in Dillsboro to Markland Dam in Switzerland County, as part of Phase I of the project.
Phase II would eventually see State Road 101 stretch from U.S. 50 to the Interstate 74 Sunman/Milan exit.
Frye tells Eagle Country 99.3 that the proposal included other connecting roads, including State Road 56 from Aberdeen to Rising Sun and State Road 262 from Cass Union Road to Rising Sun.
All-in-all, the proposal could eventually link Interstate 74 in Indiana to Interstate 71 in Kentucky.
Frye added that the State Road 101 extension would provide improved infrastructure to help with truck traffic if and when Indiana's Fourth Port lands in Lawrenceburg.
Economically, a new State Road 101 would likely attract new businesses to the area and would allow for easier access to big economic drivers like Rising Star Casino in Rising Sun and Belterra Casino Resort in Switzerland County.
Frye says Phase I of the project would cost approximately $163 million, which would be paid for with INDOT funding.
It could take up to five years for Phase I to be complete. Phase II construction would take an additional five years to complete.
In the coming weeks and months, county engineers in Dearborn, Ohio and Switzerland counties are expected to look into the financial impact of a State Road 101 extension. Eventually, each county and INDOT would have to sign off on final plans.
"No one should assume there is a route chosen," said Frye. "There is a concept and that's it."
Eagle Country 99.3 will continue to provide updates on the project as the information is provided.
RELATED STORIES: