State Road 101 could be extended from U.S. 50 to the Ohio River at Markland Dam.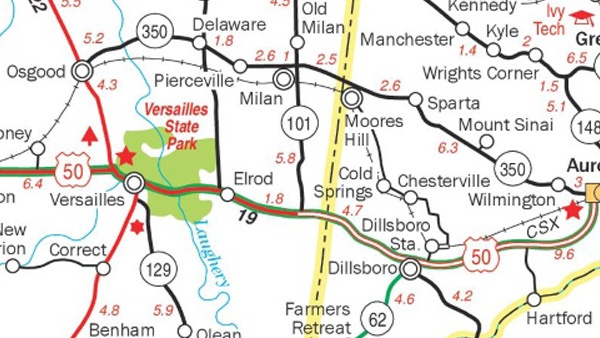 (Lawrenceburg, Ind.) - A state lawmaker says an extension of State Road 101 in southeastern Indiana is being studied.
House District 67 State Rep. Randy Frye (R-Greensburg) made the revelation at Monday's Dearborn County Chamber of Commerce Pre-Legislative Luncheon in Lawrenceburg.
Frye said the Indiana Department of Transportation is looking at potentially extending State Road 101 from U.S. 50 to Markland Dam. Currently, State Road 101 terminates south of Milan at U.S. 50.
"Getting trucks from central Kentucky up to U.S. 50 needs to be done," Frye told the audience.
No price tag of such a project was mentioned.
The lawmaker spoke of the importance of alleviating traffic on U.S. 50, especially with additional truck traffic resulting from the establishment of the Fourth Port in Lawrenceburg. Frye said INDOT is also studying a solution there, but those plans are in stages too early to share right now.