Tonya Littleton remains at-large after running from the Franklin County Courthouse in Brookville on Monday, October 29.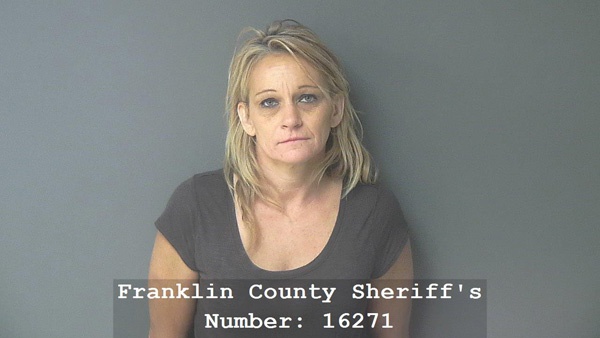 Tanya Littleton. Photo by Franklin County Sheriff's Department.
(Franklin County, Ind.) - A woman on trial in Franklin County bolted from the courthouse just moments after the jury announced guilty verdicts against her.
Tanya Littleton, 47, of Laurel, is still at-large as a potential prison sentence looms over her.
Littleton was on trial Monday, October 29 in Franklin County Circuit Court on charges of Dealing in Methamphetamine and Maintaining a Common Nuisance. The jury announced guilty verdicts on two charges against Littleton, but the judge sent them back to the jury room to reach a conclusion on a third charge for either Dealing or Possession of Methamphetamine.
The jurors went and continued their deliberations. When they returned to the courtroom with a guilty verdict on the third charge, Littleton was nowhere to be found.
She had left the courthouse.
The judge, J. Steven Cox, dismissed the jurors, thanked them for their service, and issued a warrant for Littleton's arrest.
Because she was free on pretrial bond and not yet technically in custody, it is not likely Littleton will face additional charges whenever the long arm of the law catches up with her. According to chief deputy prosecutor Chris Huerkamp, Indiana law requires that a subject be under "lawful detention" at the time of fleeing in order to sustain a charge of Escape.
But Chief Deputy Prosecutor Chris Huerkamp says he plans to research whether he can ask the judge to consider Littleton's flight as an aggravating circumstance when she is eventually sentenced.
Littleton faces three to 16 years in prison for her conviction on the meth dealing charge. For Maintaining a Common Nuisance, she could receive another six to 30 months.
Anyone with knowledge of Littleton's whereabouts is urged to contact their local law enforcement.
Huerkamp praised the efforts of the Franklin County Sheriff's Department for their thorough investigation of the case against Littleton.
"This was a textbook drug case, and thanks to these officers, we were able to convict a meth dealer of a serious offense," he said.
Littleton's disappearance from the courthouse was just the first such incident this week. On Tuesday, a female inmate was being escorted from the courthouse to the county jail when she escaped the jail matron and was missing for more than half-an-hour before being recaptured.
RELATED STORIES:
Inmate Facing Longer Stay After Injuring Matron, Attempting To Escape