It took just a little over a month to find Chris Jones' replacement.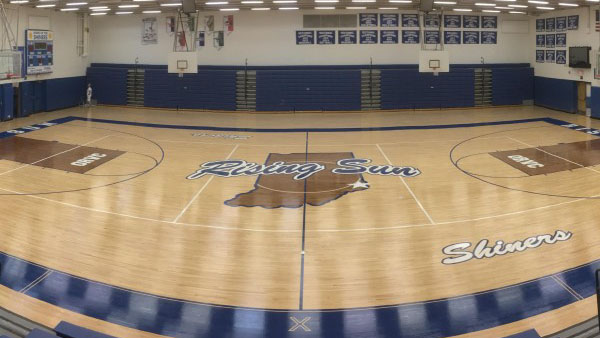 (Rising Sun, Ind.) – The Rising Sun boys varsity basketball team has a new head coach.
Just a little over a month since Chris Jones resigned from the position, the Rising Sun athletic department introduced Rick Scholl as the new head coach at a "Meet the Coach" event on Monday night.
Scholl, a Mitchell, Indiana native, brings 16 years of coaching experience to Rising Sun, including two seasons as a head coach at Springs Valley where he compiled a 17-29 record.
The Shiners new head man told Eagle Country 99.3 in an interview on Tuesday that he was familiar with Coach Jones, the Rising Sun program and the administration after competing at the same holiday tournament during his time at Springs Valley - which helped in making the decision to move to Rising Sun.
"Its a nice community, very clean and I'm a water guy so that helps and is exciting," said Scholl. "The administration is very supportive and at our meet and greet last night a lot of people were there and had a really warm reception. When you get really good support you are more apt to be excited and successful."
This past season, Scholl served as the assistant coach at Tipton High School. The Blue Devils went 21-5 and won a 2A sectional championship. Scholl has also coached as an assistant at Greenwood High School.
Scholl replaces Chris Jones, who tallied a 41-79 record over five seasons at Rising Sun. In May, Jones accepted an offer to become the new assistant principal at Princeton High School near Evansville.
However, the Shiners should hit the ground running this summer, as Scholl inherits a Shiners team that went 12-11 last season and returns three senior guards: Jacob Bovard, Nick Koons and Noah Pflum.
Last season,the Shiners played at a frenetic pace averaging about 67 points per game, and Scholl appears open to keeping the same pace of play in 2018.
"You go with the horses you have," Scholl said. "Obviously if you can score quick baskets in transition, what coach wouldn't want that. I want kids to feel confident and feel free to take their shot."
Aside from coaching, Scholl will teach Special Education classes at Rising Sun High School.