These three local stars on the gridiron were named to the South all-star team back in March.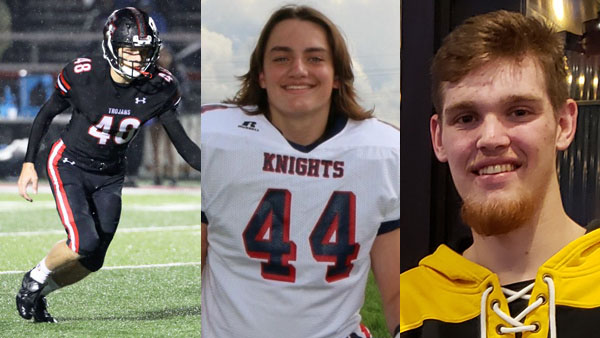 Local players named to the IFCA South All-Star Team (left to right): East Central's Caden Browndyke, South Dearborn's Axel Bell, and Milan's Orrin Schmidt.
(Indianapolis, Ind.) - Three southeastern Indiana high school football standouts will be on the field for the 53rd North-South All-Star Game on Friday, July 12.
Among the all-stars are Milan High School tight end Orrin Schmidt, East Central High School kicker Caden Browndyke, and South Dearborn High School defensive end Axel Bell. Eagle Country 99.3 wishes them luck!
The Indiana Football Coaches Association North-South All-Star Classic happens at North Central High School in Indianapolis. Cost at the gate is $10 for adults or $5 for students.
Schmidt, who will be playing next season for the Franklin College Grizzlies, made 29 pass catches for 533 yards and five touchdowns in his senior season with Milan. On the defensive side, he racked up 34 tackles, three sacks, and an interception.
In a senior season which earned him IFCA Senior All-State honors, South Dearborn's Bell tallied 51 tackles, 14 tackles for loss, 16 sacks and three forced fumbles. He has committed to Thomas More University.
Fellow IFCA Senior All-State honoree Browndyke was a record-setting kicker at East Central. In his senior season, he made 67 of 71 on extra point attempts and made eight of 10 field goal attempts, the longest from 50 yards.
The South All-Stars are being coached by Kevin O'Shea of North Central High School. The North team's head coach will be Jason Garrett of Fort Wayne Bishop Dwenger.
RELATED STORIES:
For Whom The Bell Tolls: South Dearborn Defensive Star Signs With Thomas More Univ.
Milan's Schmidt To Play Football At Franklin College
Browndyke, Bell, Schmidt Are IFCA South All-Stars