East Central's Caden Browndyke has been named to the Indiana Football Coaches Association's 2018 Top 50 Team.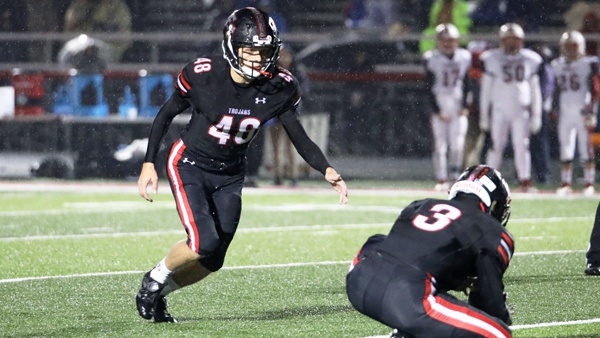 Caden Browndyke (48) kicks a game-winning field goal against South Dearborn in an IHSAA Sectional Semi-Final game. Photo by Sandy Mahoney.
(St. Leon, Ind.) - East Central senior placekicker Caden Browndyke's leg helped the Trojans in a few games this season.
It has also helped him earn a spot on the Indiana Football Coaches Association Top 50 All-State. Essentially, the coaches association has recognized Browndyke as the state's best kicker this past season.
As a senior for EC, Browndyke was 67/71 on extra point attempts. He also nailed 8 of 10 field goal attempts, his longest being from 50 yards.
Browndyke was the only area player to appear on the IFCA Top 50 All-State list. However, a number of local players made IFCA Senior All-State and Junior All-State.
East Central teammates Alex Maxwell, Eric Rosemeyer, and Cole Rosfeld were named 4A Senior All-State at quarterback, running back, and offensive line, respectively. Rosfeld protected Maxwell (1,164 passing yards and 9 touchdowns, plus 1,308 rushing yards and 29 scores) and opened running lanes for Rosemeyer (1,675 rush yards and 18 TDs).
Two South Dearborn Knights appeared on the 4A Senior All-State team defense. Owen Lunsford was named to the team as a defensive back while Axel Bell made it on the defensive line. They helped lead a turnaround season for the 8-3 Knights, who bragged one of the lowest opponent scoring averages in the state. Lunsford had a team-best 105 tackles and six interceptions. Bell tallied 51 tackles, 14 tackles for loss, 16 sacks and three forced fumbles.
Trey Heidlage, the quarterback for the Batesville Bulldogs, was the 3A Senior All-State quarterback. The Marian University commit passed for a conference-best 2,298 yards and 21 touchdowns, while also rushing for 1,472 yards and 28 scores.
Milan junior Dakota Sams appeared on the 2A Junior All-State team offense as an offensive lineman.
Switzerland County's Zach Weaver, a junior, was on the 2A Junior All-State team defense as a defensive lineman.
Complete IFCA Football All-State teams can be found online at https://ifca.net/all-state-teams/.