The convoy will start in Versailles and travel to Harrison.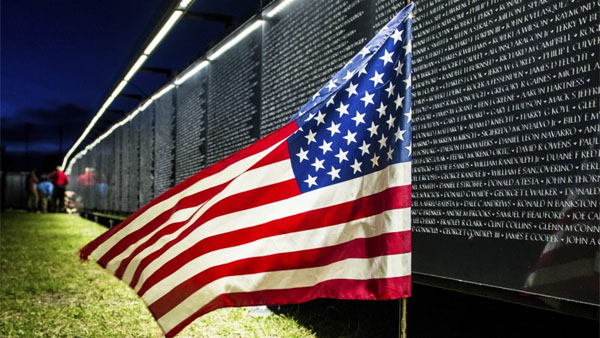 The Wall That Heals comes to Harrison on June 8. The display will be available June 10-13. Photo provided.
(Harrison, Oh.) – There is a lot of fanfare surrounding the arrival of The Wall That Heals in Harrison.
The three-quarter scale replica of the Vietnam Veterans Memorial in Washington, D.C., which features the names of more than 58,000 soldiers who made the ultimate sacrifice during the Vietnam War, will arrive in Harrison in June.
The Wall That Heals exhibit and education center will be open for public viewing 24 hours per day, June 10-13 at JTM Food Group, 110 Industrial Avenue.
Motorcyclists are invited to help escort The Wall That Heals into Harrison on June 8. Riders are asked to meet the escort truck at 4:00 p.m. at the Versailles Indiana American Legion.
The convoy will depart at 5:00 and travel U.S. 50 through Aurora, Lawrenceburg and Greendale continuing onto Lawrenceburg Road to State Street to Harrison Avenue in The District. The final leg of the escort will travel along Kilby Road to Campbell Road, finishing around 6:15.
"This means a lot of those of us who served," said VFW Duwel Post 7570 Commander Mike Whitener.
In 1966, Whitener enlisted in the Army. He went to Vietnam as when he was 18.
"At the Memorial in Washington I saw the names of four buddies who I thought made it home, and they didn't," Whitener said. "It really got to me. I'm grateful our country put that up and now people in our area get a chance to see this."
"Everyone needs to come see it," said City Council Representative and American Legion Yeager Benson Post 199 Finance Director Jean Wilson. "This is a once in a lifetime opportunity for the City and for young people to see and learn what it means."
In addition to hosting The Wall That Heals, the City of Harrison will be installing 30 new lamp post banners to honor local men and women serving in the U.S. Military.
Residents of Harrison can apply for a Hometown Hero banner at www.harrisonohio.gov. Cost is $40 and the application must be mailed by May 28.
For more information, click here.