The crash was reported Friday afternoon on State Road 56.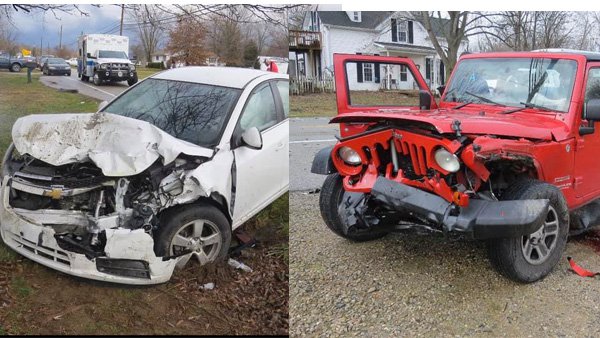 Photos by the Ohio County Sheriff's Office.
(Ohio County, Ind.) – Two people were injured in a head-on crash on State Road 56.
Ohio County Sheriff's deputies responded to a three-vehicle accident on Friday around 2:46 p.m.
Deputies say Jacob Messang, 29, of Patriot, was traveling southbound on 56 when he attempted to pass a semi-truck.
As Messang went to pass the semi, a U.S. Postal worker was pulling out to head northbound. The two vehicles collided head-on and then struck the side of the semi.
The postal worker, Melody Alexander, 42, of Rising Sun, was transported to Highpoint Health in Lawrenceburg with unknown injuries.
Messang received minor injuries to his arm, stomach and leg.
Ohio County Sheriff's deputies were assisted at the scene by the Rising Sun Fire Department and Ohio County Rescue.