UPDATE: I-75 Southbound is still closed at Kyles Lane and I-71 is shut down at Verona.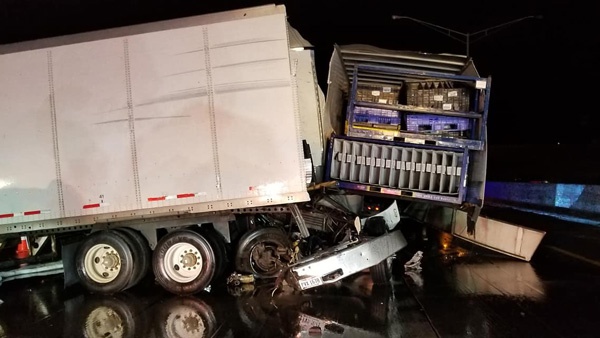 The crash on I-75 at Buttermilk Pike. Photo by Todd Schulkers.
Update published at 11:24 a.m.:
I-75 southbound in northern Kentucky has reopened.
The interstate was closed starting at around 4:00 this morning when a couple semi trucks collided with each other near the Dixie Highway exit in Fort Mitchell. HazMat crews had to clean up a large fuel spill.
A woman was hospitalized with non-life threatening injuries.
I-75 Southbound was expected to reopen by noon. The backup extends all the way into downtown Cincinnati.
That's not the only big wreck causing problems. Three trucks were also involved in two separate crashes on I-71 near the Verona exit in southern Boone County this morning.
Fuel spill cleanup has the interstate closed until at least 12:30 p.m.
Police have been redirecting traffic from I-71 at the Verona exit.
Traffic update. Interstate 75 south bound at Dixie Highway should be open between 10am-12:00pm EPA is on scene now cleaning up the large fuel spill. One female was transported with non life threatening injuries due to this collision. Thank you for your patience. pic.twitter.com/bmQSbC4STO

— Fort Mitchell Police (@FortMitchellPD) November 1, 2018
Original story published at 6:18 a.m.:
(Verona, Ky.) - Wet road conditions may be to blame for at least a series of crashes in northern Kentucky Thursday morning.
A pair of semi trucks were involved in a major collision on Interstate 75 Southbound near the Buttermilk Pike exit at around 4:00 a.m. Kentucky Emergency Management says the highway's southbound lanes will be closed for about six hours.
At least two accident were reported on Interstate 71 near the Verona exit at the 68 mile marker. The crashes involved three commercial vehicles and at least one caught fire. The first crash involves a HazMat situation. I-71 is closed in both directions.
Listen to Eagle Country 99.3 for the latest in local traffic.
A flood watch is in effect for the entire tri-state Thursday until Friday morning. The rain will be almost non-stop today until late tonight.
The National Weather Service is calling for two to four inches of total rainfall.
I-75 South at Ft. Mitchell closed for the next 6 hours. Also I-71 At the 68mm in Gallatin County is closed for three commercial vehicles that have crashed crashed invoking hazmat. https://t.co/BPBkFZUOJF

— Kentucky Emergency Management KYEM Area 6 Office (@KYEMArea6) November 1, 2018