The school corporation's superintendent broke the news in a letter to parents Tuesday. The school board could vote Thursday.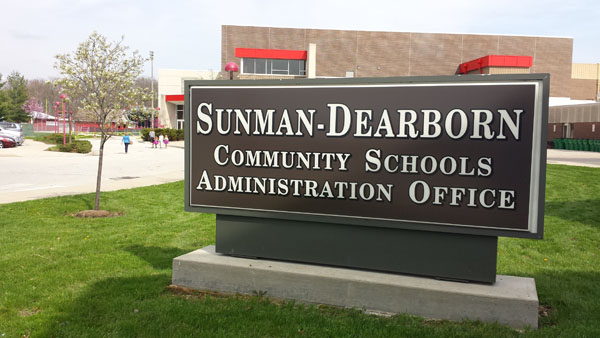 File photo
(West Harrison, Ind.) - Sunman-Dearborn Community Schools may leave the Ripley-Ohio-Dearborn Special Education Cooperative, raising a number of questions from the school district's parents.
ROD is utilized by a number of local school districts for their special education students. In addition to Sunman-Dearborn, those school corporations with ROD include Batesville, Jac-Cen-Del, Lawrenceburg, Milan, Rising Sun-Ohio County, South Dearborn and South Ripley.
Sunman-Dearborn Schools Superintendent Andrew Jackson sent a letter to parents Tuesday, February 12 stating that he will recommend to the Board of Trustees that the district withdraw from ROD at the board's meeting Thursday, February 14.
The proposed withdrawal would be effective June 30, 2020.
In his letter, Jackson, who is a member of ROD's Board of Directors along with other area superintendents, gave two reasons for recommending the withdrawal.
"With our own special education related services staff, we can better serve our students and have the special education staff (director, school psychologists, etc.) more directly involved in the instruction and remediation of our special education students," he wrote.
"The second reason is financial. After reviewing the funding model of ROD over the past several years, it has become apparent that Sunman-Dearborn Community School Corporation has been overpaying for our services. This isn't intentional, but rather as a result of the funding model staying the same over the years and not responding to the changes in special education services and requirements."
Jackson stated in his letter to parents that nothing for parents and students would change as a result of Sunman-Dearborn's withdrawal, if approved by the school board. Those students will still be served according to their IEP, or individualized education plan.
Still, many parents of special education students are asking questions. Jackson is welcoming parents to contact him with questions and concerns.
Sunman-Dearborn is the largest school district currently involved with ROD, meaning its withdrawal could have a significant impact on the cooperative which was first established in 1972. The cooperative provides services to approximately 2,800 students ages 3 to 22, according to its website.
Published minutes of last October's ROD Board of Directors meeting show Jackson and Batesville Community Schools superintendent Paul Ketcham requested data to review how ROD is funded and operated, particularly using federal grants. Jackson requested data to help the board review whether local corporations could fund emotionally disabled and severe disabilities programs directly instead of funding them through ROD.
"(Jackson) noted that with only one exception, all the schools have the school-aged transfer programs unlike when the current funding structure was established when the programs were shared between the entire cooperative," according to the minutes.
Other superintendents at that meeting voiced concerns about losing any services if there were funding changes.
At December's ROD board meeting, ROD director Alex Brewer provided board members information regarding the cooperative's funding. Minutes show he advised the board to consider several points, including sharing of the South Ripley/Jac-Cen-Del severe disabilities program, how much ROD services are going to each district, and other shared programs and services.
The Sunman-Dearborn Community Schools Board of Trustees meeting will begin at 7:00 p.m. Thursday, February 14 at the East Central High School library.
No other superintendents or their districts have announced plans to withdraw from ROD.