The 9,300 square feet facility is planned to be built where the current concession stand and locker rooms stand at Backman Field.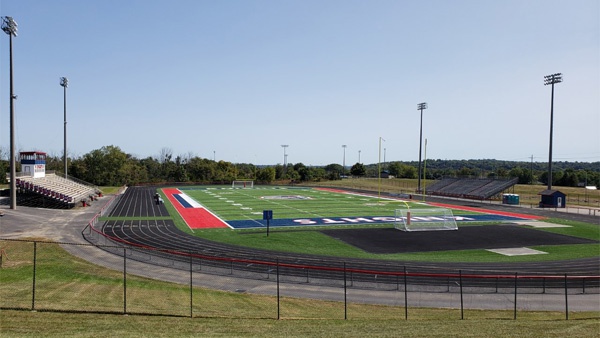 (Aurora, Ind.) – The hope is that by early 2023 construction will be underway on a new athletic facility at South Dearborn High School.
School board members discussed plans for the proposed 9,300 square feet facility on Tuesday.
Plans are for the building to be built in the area of the current concession stand and locker room area, where plumbing and electric are already in place. The current building would be demolished.
Superintendent Eric Lows said there were discussions about building the facility where the scoreboard currently stands, but "that would have required a lot of earth moving which would add up."
The location allows the school corporation to get the best "bang for their buck" when bids go up next month.
The bids that come in will largely determine how much will be done at Backman Field. The athletic facility appears to be the top priority, but administrators would like to see new bleachers and a two-level press box installed.
Proposed plans for the athletic facility include locker rooms for the football, soccer and track & field teams, coaches offices, meeting room, public restroom area, training room, laundry room, concession area with three walkup windows, concession storage and a lounge area with flexible seating.
About 100 lockers will be dedicated to the football program, while approximately 50 lockers will be used by the soccer and track & field teams when in season.
On the exterior, the words South Dearborn will be backlit with the shield logo.
The school corporation plans to open bidding for the project in mid-to-late September.
Depending on the bids, there may be an opportunity to include new ADA compliant bleachers on the home sideline, press box, asphalt driveway and parking for the handicap.
The target start date for the project is January 2023.
RELATED STORIES
South Dearborn HS Improvements Estimated At $15M; Architect Could Be Hired Next Month
South Dearborn School Board Discusses Potential High School Improvements