The crash happened Monday afternoon.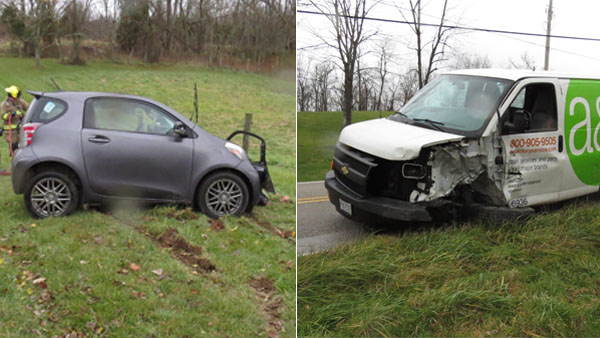 Photo provided by Indiana State Police.
(Rising Sun, Ind.) – A Rising Sun woman was seriously injured in a head-on collision on State Road 56.
The Ohio County Sheriff's Department, Rising Sun Police Department and Indiana State Police responded to the crash on the 5000 block of W. State Road 56 Monday afternoon.
Police say Rickey F. Cheesman Jr., 46, of Middletown, Ohio, was westbound on SR 56 when his vehicle went left of center and into the path of a vehicle driven by Betty J. Massong, 80, of Rising Sun. The vehicles collided nearly head-on in the eastbound lane.
Massong's vehicle exited the road before coming to a stop. Cheesman's vehicle came to a rest in the roadway.
Massong was transported to a Cincinnati area hospital for treatment of serious injuries.
Toxicology tests are pending. However, police don't believe drugs or alcohol were a factor.