The action may be too little, too late, the county attorney warns.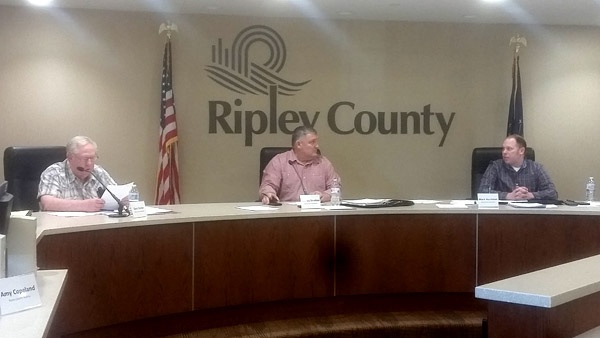 Ripley County Commissioners (left to right) Gary Stutler, Rodney Stratton, and Mark Horstman heard from Sunman area citizens worried about whiskey fungus on February 25, 2019. Photo by Mike Perleberg, Eagle Country 99.3.
(Versailles, Ind.) – Ripley County Commissioners will consider modifying the county's zoning ordinance, but the action may be too late to help Sunman residents worried about the effects of a whiskey barrel house in their town.
Lawrenceburg distillery owner MGPI of Indiana purchased the former Deufol plant on Meridian Street in Sunman last year. The company plans to store more than 300,000 whiskey barrels across two warehouses there as the spirits age before being bottled for sale.
The concern is the "angel's share" of the ethanol which evaporates from the wood barrels as the whiskey ages. The ethanol vapors which can escape the barrel house cause a black, soot-like fungus to grow on objects within a large area around the operation.
The Indiana Department of Environmental Management is currently considering an air permit needed to begin aging whiskey in Sunman (PDF). However, the property they purchased from Deufol last year is already zoned for industrial use.
Last week, Sunman area residents filled Sunman Town Hall to show their opposition to the town council's approval of a tax abatement for MGPI of Indiana.
A handful of those same citizens spoke up during Monday's meeting of Ripley County Commissioners.
"This is totally disrupting my life," said Carol Eckstein. "It is making me sick. What's coming is not good."
Eckstein and other citizens are voicing the concern that the whiskey fungus will be unsightly, harm their property values, impact nearby corn and soybean crops, and potentially impact human health - a claim not proven by any scientific study.
"It's not that we don't want our town to thrive and grow or for an empty warehouse to be put to use. It just seems that this is going to be such a detriment that there is not going to be any gain. There is no financial gain to the town as far as jobs, as far as tax revenue," said Alison Knue, whose children go to Sunman Elementary School not far from the planned barrel house.
Knue accused Sunman Town Council of "stonewalling" citizens seeking information about the whiskey barrel house. She and others asked Ripley County Commissioners to advocate for residents in the Sunman area.
Ripley County Attorney John Ertel explained that the Town of Sunman adheres to the county's area zoning code. Enforcement of the code, however, is up to the town because the MGPI-owned facility is in the town limits.
Resident Karyl Schmidt, a retired geologist with IDEM, urged commissioners to put stricter guidelines on distilling operations in the county. She also said other distillers in the U.S. have installed in their barrel houses ventilation systems which capture the evaporating ethanol.
Commissioner Mark Horstman, who lives near Sunman, motioned that Ertel draft an update to the county's zoning ordinance doing just that.
Fellow commissioner Gary Stutler cautioned that the ordinance should not have unintended consequences that could impact elderly people and nursing homes which may have mold or fungus in their residences.
Stutler expressed skepticism that the ethanol evaporation has negative health effects, as he knew people who worked at the distillery in Lawrenceburg and lived into their 80s. He asked for more information to be presented.
Ertel advised that while the county could pass new zoning restrictions, it may be too late to apply the update to MGPI since they have already purchased the property and filed for the air permit. The barrel house could be grandfathered in under the current code, unless citizens were to take the company to court and prove that the barrel house has had a negative impact on their property or health.
"At the end of the day, we don't want to put them in a position to where they can't do business. We just want them to protect our people. That's it," said Horstman.
An attorney who claimed he represented MGPI of Indiana in its purchase of the Deufol plant was present and spoke briefly at the commissioners meeting. He said he was asked to come to the meeting to gather information for the company. The attorney said he thinks starting a conversation between townspeople and the company would help. He indicated a meeting may be scheduled for early March.
The "angle's share" fungus matter and MGPI of Indiana's air permit will be the focus of a public meeting to be held by IDEM at Milan High School on Thursday, February 28 starting at 5:30 p.m.
RELATED STORIES:
Sunman Citizens Display Barrel House Opposition To Defensive Town Council
IDEM Grants Public Meeting On Sunman Whiskey Barrel House Operation
Citizens Want Public Hearing On Whiskey Barrel Storage In Sunman