Listen to audio of the contentious Sunman Town Council meeting here.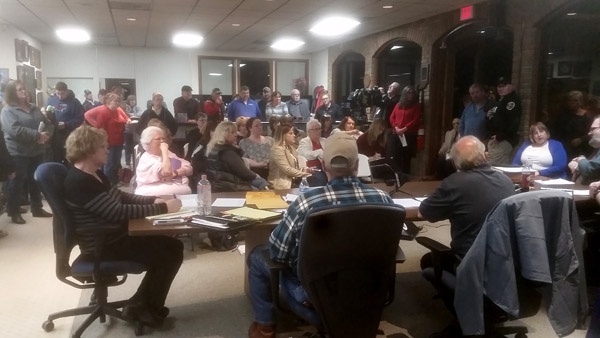 Citizens packed the Sunman Town Hall to ask the three-member town council about a tax abatement for MGPI of Indiana on Thursday, February 22. Photo by Mike Perleberg, Eagle Country 99.3.
(Sunman, Ind.) - As the meeting came to an abrupt end, many said they did not get the answers they were looking for at Thursday's Sunman Town Council meeting.
Close to 100 people crowded into the town hall and museum to share their worries about MGPI of Indiana's plans to establish the world's largest whiskey barrel house at the former Deufol plant. The company is the owner and operator of the Lawrenceburg distillery. It purchased the plant on State Road 101 last year, a move town officials say of which they had no prior knowledge.
Residents have fears that a fungus known to grow near barrel houses will harm their property value and possibly their health.
"The decrease in property value we will see once this comes in is going to be significant. Nobody is going to want to live here," said one woman in the crowd as citizens and town officials argued and shouted back and forth for about 50 minutes.
The fungus baudoinia compniacensis feeds off the ethanol that evaporates from wood barrels during the whiskey aging process. That evaporation, also known as the "angel's share," distillers say, helps give the liquor its desired taste.
Despite its benevolent nickname, the evaporation has some undesirable side-effects on nearby environments. The fungus it causes quickly builds up on surfaces, creating a black, dirty look on homes and vehicles that are not regularly washed. Homes and warehouses near the 172-year-old distillery in Greendale and Lawrenceburg have been plagued by the fungal growth for decades.
Although no human health issues have been tied to the fungus, there is limited research on it.
LISTEN TO AUDIO OF THE SUNMAN TOWN COUNCIL MEETING IN THE AUDIO PLAYER:
Citizens asked for the town council to rescind a 20-year, real property tax abatement approved on a 2-1 vote in December. Sunman Town Attorney John Kellerman told citizens that the abatement cannot be rescinded.
The tax abatement, Kellerman added, will only apply to state real property tax revenues on new "dry" fire suppression systems and other new equipment to be installed at the warehouse. It does not affect the property tax revenue to the town.
Citizens asked what the amount of the abatement may be, but town officials said that amount is unknown. The amount of tax deferred will depend on what MGPI spends on the building improvements.
Kellerman explained that MGPI refused to commit in a contract to town council's request for safeguards or a clean-up fund during the tax abatement negotiations. Such assurances were made, but only on a handshake agreement, town leaders say.
Ripley County Commissioner Mark Horstman was in attendance and asked for commitment from MGPI that they will stick to their word.
"It is frustrating to be in a situation having a company roll into town and not telling me what they are going to do to clean people's homes and straighten this up," Horstman said.
Town councilman Michael Wolff revealed that during the negotiations, MGPI representatives indicated the company would be setting up the massive barrel house in Sunman regardless of receiving the abatement.
"What they told us was they are coming to town and they'll be good neighbors. I can welcome a company to town with a handshake or slam the door in their face," Wolff explained his vote.
The 415,000-square-foot facility on the south side of town was already zoned for business, so MGPI did not seek a zone change with the town prior to purchasing it, town officials said.
"It is not up to me who comes into this town," Wolff said defensively.
Fellow council member Harvey Dobson, who also voted to pass the tax abatement, said there is no guarantee the fungus issue will arise in Sunman. Many in the riled-up audience disagreed.
"It happens in every climate in the world. It happens. Nothing stops it. The fungus feeds off the ethanol," said one man.
Another woman in the crowd became emotional in voicing her disappointment that the town council did not do more to protect citizens.
"We depend on you to fight for our rights," she said, breaking into tears. "Not approving the abatement would have been standing up for the citizens of this town. Shame on you."
Councilman Don Foley said MGPI's refusal to provide certain assurances led him to vote against the tax abatement last year.
"I didn't think they were stepping up to the plate, and I didn't think they were going to help our citizens. I said 'no'. That was my vote," Foley said to applause.
Nobody at the meeting identified themselves as an MGPI of Indiana representative. Wolff said they were asked to come.
The councilman said that the company has offered to meet with a small group of citizens to discuss the fungus issue. It was not clear who may be invited to be part of those small meetings. Wolff put it to the citizens to identify individuals who could be part of that small group.
The meeting was brought to an sudden conclusion when Wolff and Dobson motioned to adjourn. Some of the audience members began distributing voter registration cards and urging others to run for town council.
Before the company can store any whiskey barrels in Sunman, MGPI of Indiana must receive an air quality permit from the Indiana Department of Environmental Management. That's where citizens opposed to the barrel house may focus their attention next.
IDEM will hold a public meeting on the needed air permit request next Thursday, February 28 beginning at 5:30 p.m. at Milan High School's cafetorium. A public comment period for accepting written testimony by mail or email remains open through March 4, according to IDEM.
In an earlier portion of the meeting, the town council accepted a bid to sell an old town-owned truck for a little over $2,000.
"Well, we got the truck sold," Wolff quipped as the meeting came to a close.
RELATED STORIES:
IDEM Grants Public Meeting On Sunman Whiskey Barrel House Operation
Citizens Want Public Hearing On Whiskey Barrel Storage In Sunman