Police discovered methamphetamine, marijuana, syringes and paraphernalia throughout the hotel room.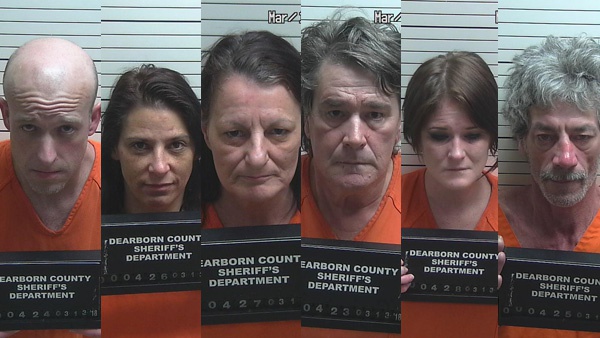 (left to right) Brian Pettit, Marica England, Charlene Robertson, Ricky Robertson, Kelly Mills, and James Hicks Jr. are accused of dealing drugs from a casino hotel room. Photos by Dearborn County Sheriff's Department.
(Lawrenceburg, Ind.) - Six people face charges for their alleged involvement in a drug dealing operation based in a hotel room.
Lawrenceburg Police and the Dearborn County Special Crimes Unit were called to a local riverboat casino by the casino's security department on March 2. A caller told the hotel's front desk that Brian L. Pettit, 37, of Cedar Grove, was selling drugs from a room.
Police went into the room registered to Marica L. England, 46, of Rising Sun, where they discovered empty syringes in a trash can.
Officers were again called to the casino on March 4 after nine prescription bottles – all containing medication - were found on the property. With the bottles was located a paper with the dates February 20 through 23, dates which Merica and Pettit had bought a room at the hotel.
On March 13, detectives received word from hotel security that England and others had checked into a room. Police went to the room and encountered Pettit, who was arrested on an outstanding warrant from Ohio.
Entering the room, officers found five other people. They also discovered 25.9 grams of methamphetamine, marijuana, syringes and paraphernalia throughout the room.
Other items indicating that drugs were being dealt such as cell phones, scales, and a ledger were confiscated by police.
At the time Pettit, England and the others were being hauled off to jail, police learned that a woman was arrested at Walmart in Aurora for theft. The woman told police she had purchased heroin by Pettit. She said she was stealing merchandise in an effort to pay back Pettit for the drugs he allegedly supplied.
Along with Pettit and England, those facing charges as a result of the drug bust include Ricky R. Robertson, 55, of Brookville; Charlene M. Robertson, 56, of Brookville; Kelly E. Mills, 36, of Harrison; and James R. Hicks Jr., 50, of Lawrenceburg.
Each of the six suspects are charged with Dealing in Methamphetamine At Least 10 Grams (level 2 felony), Possession of Marijuana Less Than 30 Grams (class B misdemeanor), Possession of a Schedule II Controlled Substance (class A misdemeanor), Possession of a Syringe (level 6 felony), Possession of Paraphernalia (class C misdemeanor), and Maintaining a Common Nuisance (level 6 felony).
With the exception of Pettit, the other five suspects each face a charge of Assisting a Criminal (level 5 felony).
Hicks faces an additional charge of Obstruction of Justice (level 6 felony).
Each of the six suspects remains held in jail at the Dearborn County Law Enforcement Center as on Wednesday.