The Ohio River at Cincinnati will reach flood stage Monday as more rain falls on the tri-state.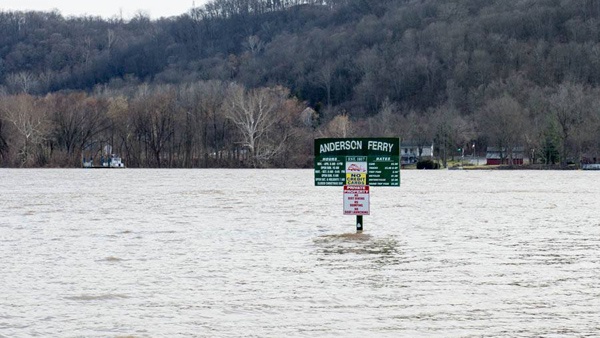 The Anderson Ferry is closed as the Ohio River reaches flood stage. Photo courtesy Anderson Ferry.
(Lawrenceburg, Ind.) - The Ohio River is expected to enter flood stage Monday.
More rain over the weekend and continuing Monday is causing the waters to rise. The Ohio River at Cincinnati is close to 51 feet as of Monday morning, and is forecast to crest at 56.3 feet overnight Tuesday into Wednesday.
Flood stage is 52 feet.
This flood won't be as bad as that seen just one year ago. The upcoming crest, as it is seen now, would be below the 60.5 feet crest of February and March 2018 – the highest levels since the flood of 1997.
The Great Miami River at Miamitown is under flood stage at the moment, but will go about a foot over flood stage Wednesday.
A Flood Warning is in effect until 11:00 a.m. Monday, according to the weather service. A Flood Watch will remain until 1:00 p.m. Tuesday as up to 2.5 inches of rain could fall on already saturated ground through Tuesday afternoon.
There are some road closings due to the high water. East Laughery Road and Cross Road in Dearborn County were shut down through the weekend and remain that way Monday.
"We urge everyone to avoid these areas and never drive through flooded roadways," said Dearborn County Emergency Management Director Jason Sullivan.
Lawrenceburg Road in Hamilton County's Whitewater Township is still closed between Suspension Bridge Road and Stephens Road.
The Anderson Ferry is also closed Monday because of the flooding Ohio River, and could remain closed several days as the water continues to run high.
Fog is a problem in parts of the tri-state Monday morning. A Dense Fog Advisory is in effect until 10:00 a.m. Soupy fog is part of the reason that Franklin County Community Schools are on a two-hour delay Monday.
[1205 PM] Ohio River (Cincinnati) update - new fcst shifts crest higher and crossing into flood stage early Mon eve. There is uncertainty on exact numbers - but a crest around 56 ft fits the upcoming rain and current flows at this time. Flood warning in effect! Stay aware! pic.twitter.com/aijdFgrnZd

— NWS Wilmington OH (@NWSILN) February 10, 2019