The incident happened on January 9.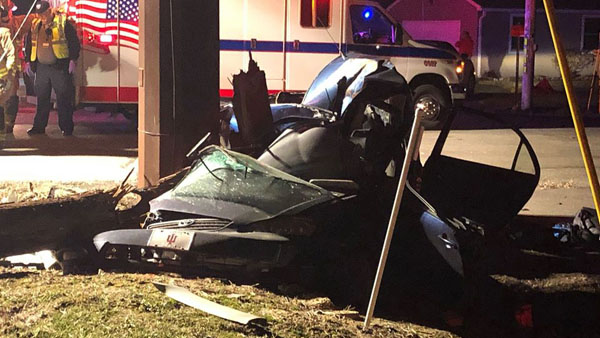 (Madison, Ind.) - A 19-year-old man was arrested on numerous charges related to a fatal crash that happened in January of this year, killing two passengers in his vehicle.
On Thursday, January 9, around 3:45 p.m., Madison police officer attempted to conduct a traffic stop on a 2005 Toyota passenger car driven by Blake Coombs. The vehicle fled from the officer northbound on State Road 7 from Madison. Coombs then turned westbound on State Road 250, southbound on State Road 3, and then eastbound on State Road 256 back towards Madison.
Indiana State Police and Jefferson County Sheriff's Department assisted in pursuing the vehicle.
Coombs lost control of the vehicle on SR 256 at Thompson Road where the Toyota left the roadway, hitting two utility poles on the northeast corner of the intersection.
The front seat passenger in the vehicle, Tyler Cooley, 18, of Hanover, and a backseat passenger, Brooklyn James, 19, of Madison, both sustained fatal injuries in the crash and were pronounced dead at the scene.
Coombc was airlifted to a Louisville hospital where he was treated for serious injuries.
Blood test results showed that Coombs had controlled substances and marijuana in his system at the time of the crash.
Coombs, also known as Blake Eisenhower, was unlicensed when the crash occured.
After an investigation, a warrant was issued for Coombs out of the Jefferson County Circuit Court for two counts of Resisting Law Enforcement Causing Death (Level 3 Felony) and two counts of Reckless Homicide (Level 5 Felony).
Yesterday, the warrant was served to Coombs who has been held at the Pendleton Juvenile Correctional Facility on an unrelated charge since being released from the hospital following the crash.
Coombs will soon be given an initial appearance in the Jefferson County Circuit Court.