Face masks will also be distributed to other healthcare providers, first responders and military veterans in Eagle Country.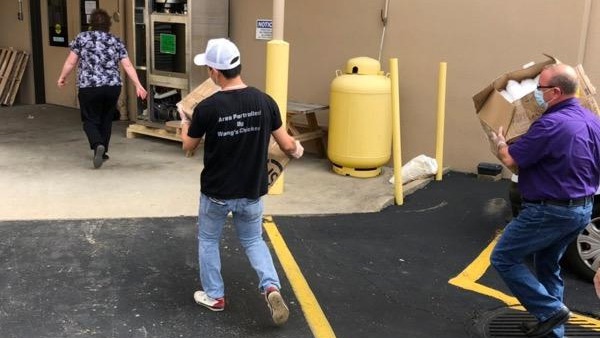 Kevin Wang (center) and Barnie Bryant (right) deliver face masks to Highpoint Health. Photo provided.
(Lawrenceburg, Ind.) - The power of community is shining bright during these dark times.
People around the world continue to be impacted by COVID-19. Among those heavily impacted are the doctors, nurses and healthcare workers battling the virus on the front line.
Last week, Eagle Country 99.3 told you that Kevin Wang, along with Ken Maddin, asked community members to make donations that would go towards the purchase of face masks to be distributed throughout the community.
Immediately after learning about the fundraising effort, Harry Tepe with Tom Tepe Auto Center in Milan and Barnie Bryant with Car Country in Aurora and Harrison, decided to fund the entire effort with a $6,600 donation.
On Friday, Kevin Wang, Ken Maddin and Barnie Bryant distributed nearly 5,000 face masks to employees at Highpoint Health.
Wang tells Eagle Country 99.3 that face masks will first be distributed to healthcare providers, then first responders and local military veterans. If enough supplies are left over, families in Dearborn, Ohio and Ripley counties will have the opportunity to pick up face masks at a location, date and time to be determined.
RELATED STORIES:
Wang's Hot Chicken, Tom Tepe, Car Country Come Together To Help The Community