We have some really great people in our community.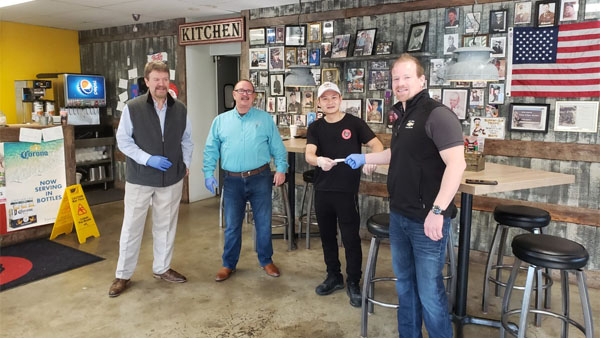 Harry Tepe (right) hands Kevin Wang a check for $6,600. Also pictured Barnie Bryant and Ken Maddin. Photo by Travis Thayer, Eagle Country 99.3.
(Aurora, Ind.) - Local businesses are teaming up to help those who will benefit from having face masks during the COVID-19 outbreak.
Kevin Wang, the owner of Wang's Hot Chicken and The Grand Buffet, took to social media this week asking community members to make even the smallest donation to help purchase face masks for those who need them the most.
The goal was to raise $6,600.
It didn't take long to hit the goal due to the generosity of Tom Tepe and Car Country, who donated the full total.
"We're very happy to support the community that supports us. We've grown year after year and its because of the generous support of the customers and the community, so we're happy to give back anyway we can," said Harry Tepe. "The first responders and the people with the healthcare and the hospitals are on the front lines of this and we need them."
The donated funds go towards the purchase of approximately 10,000 face masks. Local hospitals, healthcare workers and first responders will be among the fire groups of people to receive the face masks.