Among the topics were the state budget, COVID-19, Fourth Port update, and more.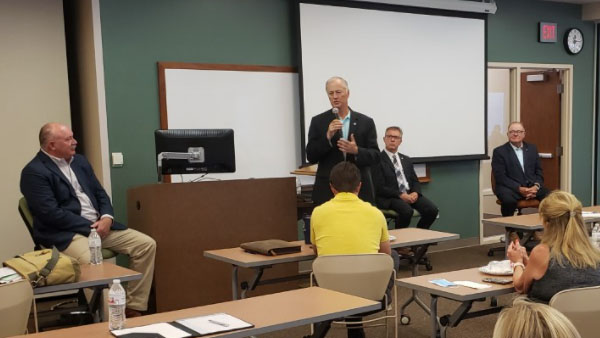 State Representative Randy Frye (R-Greensburg) speaks at the Dearborn County Chamber of Commerce Legislative Luncheon. Photo by Travis Thayer, Eagle Country 99.3.
(Lawrenceburg, Ind.) - Lawmakers from southeastern Indiana gathered in Lawrenceburg to share their experiences from the 2021 legislative session.
The Dearborn County Chamber of Commerce hosted their annual Post-Legislative Luncheon on Wednesday morning.
State Representatives Randy Frye (R-Greensburg) and Randy Lyness (R-West Harrison) were joined by State Senators Chip Perfect (R-Lawrenceburg) and Jeff Raatz (R-Richmond).
"I want to say how proud I am to serve with these legislators," said Rep. Frye. "There are very few legislators, if any who have more clout than your legislators in the General Assembly."
Highlights from the luncheon include the following.
State Budget
The General Assembly gave final approval to the $37 billion state budget in April.
The historic two-year budget dedicates $1.9 billion to K-12 education, and includes $150 million to help schools address learning loss due to the pandemic.
Other highlights of the budget included economic recovery initiatives for small business, expansion of broadband access, support for law enforcement and improving Hoosier health.
"It might be the first time in its history it got unanimous support," said Rep. Lyness.
COVID-19
People want to know two things when a crisis comes about.
"Who's in charge and what are we going to do."
Government is not built really well to respond to that kind of thinking. That is because lawmakers are contemplative, relying on policy and procedure to enact change. But when a global pandemic hits, quick decisions need to be made to keep up with an ever-changing landscape.
From Sen. Perfect's perspective, Governor Holcomb "did as well as anybody dealing with uncharted territory."
Someone had to be in charge and that person was the governor under the State of Emergency the state stayed under for approximately a year. The State of Emergency allowed the governor to make executive decisions regarding the pandemic.
Sen. Perfect had no problem with the governor being in charge. However, it was important to Perfect that the governor surrounded himself with people who can give you good advice.
"The problem that I had is the governor was surrounded by agency people who frankly it was their moment to shine," said Perfect. "The agencies are always struggling with trying to prove their value and their worth because they are fighting for dollars and that sort of thing. That was the primary source that the governor was getting his advice from."
So why didn't legislators step in and say "no" you can't do this or you can't do that? Perfect explained the legislature would have to get 75 people to agree to something before they could move forward.
"We are not built to respond in a timely fashion," Perfect added. "It was important to me that the governor be the point person, however the issue of who he's getting his advice from became the big issue."
One of the big bills that was passed this session was a bill that allows the General Assembly to call an special session, if the council adopts a resolution making certain findings concerning a state of emergency by the governor. The General Assembly could then terminate any order enacted by the governor.
The bill was vetoed by Governor Holcomb. The General Assembly voted to override the veto, which led the governor to file a lawsuit challenging the constitutionality of House Bill 1123.
Is the Fourth Port Dead?
The Fourth Port will not be coming to Lawrenceburg, but legislators are not giving up on bringing the Port to the southeastern Indiana region.
State Rep. Randy Frye said he has had conversations with Governor Holcomb to resume work to bring the Port to the area.
"It's not done," said Frye. "It's a great idea. Evidently, it just wasn't the right location. There is no quit in me when it comes to something like that. We're just going to keep working until we get it. It's too much of an economic opportunity to not get it."
On the legalization of medical or recreational marijuana
There were marijuana bills this session.
One that was particularly challenging for Sen. Perfect was a bill that came to his committee that would make hemp flowers legal.
The problem with making hemp flower legal is you cannot tell difference between hemp flower and marijuana flower, except through testing which is not available.
Perfect did not take a vote on the bill because it felt like a backdoor to legalizing marijuana.
"If we are going to legalize marijuana, then let's legalize marijuana," said Perfect. "Let's not do it through the backdoor. This was a backdoor approach and I personally was apart of stopping it from happening. I didn't like it, but we are going to see something from the Federal Government."
Rep. Frye also spoke on the matter, saying he opposes the legalization of medical and recreational marijuana. "I think its a bad idea and I think its a precursor to more serious drugs and more serious problems."
Volunteer Firefighter Scholarship in partnership with Ivy Tech
Rep. Frye reminds Hoosiers that the scholarship was refunded this year in the budget.
$500,000 has been spent already on volunteer firefighters going to Ivy Tech. The scholarship is a recruitment and retention program.
If you are willing to be a volunteer firefighter in Indiana, you can get your college paid for up to an Associate Degree. Then you can transfer those credits wherever you would like.
For more information, visit www.ivytech.edu.
RELATED STORIES:
Gov. Holcomb Announces Historic State Budget
Indiana Will End Federal Pandemic Unemployment Benefits
Gov. Holcomb Vetoes Bill Limiting Local Health Orders