The couple has also been charged with vehicle theft.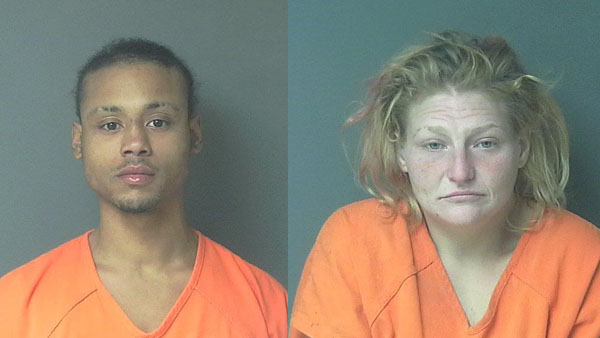 Ramonte D. Robinson (left) and Katie L. McDaniel. Photos by the Franklin County Sheriff's Department.
(Metamora, Ind.) - An Indianapolis couple is accused of stealing items from a church in southeast Indiana.
Franklin County Sheriff's deputies were called to the Metamora area on November 26 around 3:00 p.m. for a report of suspicious acting persons at the Country Mark gas station.
While investigating the complaint, deputies located two individuals who matched the witnesses' description at the Gateway Park in Metamora.
The two suspects were identified as Ramonte D. Robinson Jr., 21 and Katie L. McDaniel, 32, of Indianapolis.
Over the course of the investigation, deputies found Robinson and McDaniel to be in possession of several items that are believed to have been stolen from the Metamora Bible Baptist Church. Deputies also located a 1994 Toyota Camry near the intersection of U.S. 52 and Pennington Road that had been reported stolen out of Indianapolis.
Robinson and McDaniel were taken into custody and charged with two counts of Burglary (Level 5 felony) and two counts of Possession of a Stolen Vehicle (Level 6 felony). McDaniel was also charged with Violent Felon in Possession of a Firearm (Level 4 felony).
Both are being held in the Franklin County Security Center.
If convicted, McDaniel faces up to 12 years in prison, while Robinson faces up to six years behind bars.