Better than 80 percent of Indiana's corn crop has been planted. In Ohio, this wet spring has been much worse for farmers.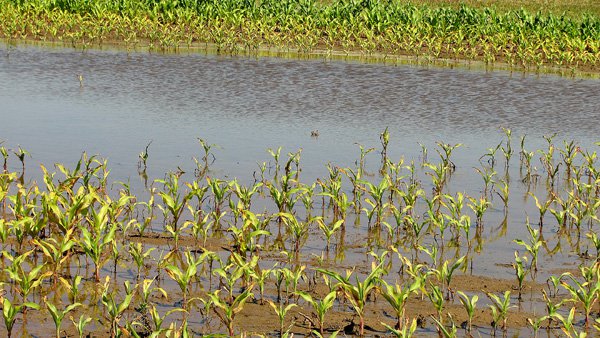 File photo.
(Lawrenceburg, Ind.) – While this week's drenching weather has not been a help, Indiana farmers are much closer to getting the corn crop completely planted.
But they are not there just yet.
The latest U.S. Department of Agriculture report for shows 84 percent of Indiana's expected corn crop was planted at the start of this week. Thanks to a window of drier weather, the figure is up dramatically from just 31 percent planted two weeks ago.
The report says the five-year average shows that all of Indiana's corn is typically planted by now.
Soybeans in Indiana are 64 percent planted, up from 42 percent last week. Farmers who have abandoned plans to plant corn are instead looking to beans, as the growing season for that crop is much shorter.
Meanwhile, farmers in Ohio are even further behind their Indiana counterparts. They have only completed 68 percent of corn planting.
Republican Ohio Governor Mike DeWine last week asked the U.S. Agriculture Department to issue a disaster declaration that would make aid available to farmers.
In Kentucky, nearly all corn has been planted statewide. Soybeans are on par at 74 percent planted as of the start of this week. Tobacco is slightly behind the 82 percent five-year average at 75 percent this week. Weather has been much drier in most of that state.
Purdue Extension offices in the state are offering aid and advice to Indiana farmers. Purdue Extension and the College of Agriculture's Center for Commercial Agriculture have created a series of videos to assist producers with decisions related to delayed planting and crop management.
"Continuous rain delays have pushed back corn and soybean planting across most of the Corn Belt, so we recorded this program to help producers evaluate their options moving forward," says James Mintert with the extension. "During the program, we also discussed the possible impact of the USDA's 2019 Market Facilitation Program and presented planting crop insurance alternatives along with key corn and soybean management considerations when planting is delayed."
The following videos are available: Historical Indiana Planning Dates and Yield Trends, https://youtu.be/rUhfkWcNXOQ; Late Corn Planting Considerations, https://youtu.be/qlrn42V8dyI; and Late Soybean Planting Considerations, https://youtu.be/R4yiiuwHW8E.
RELATED STORIES:
Indiana Farmers Still Behind But Making Progress On Planting Crops
Soaked Fields Create Major Delay In Southeastern Indiana Corn, Soybean Planting