Friends of late Rising Sun Police Chief David Hewitt want to honor his memory.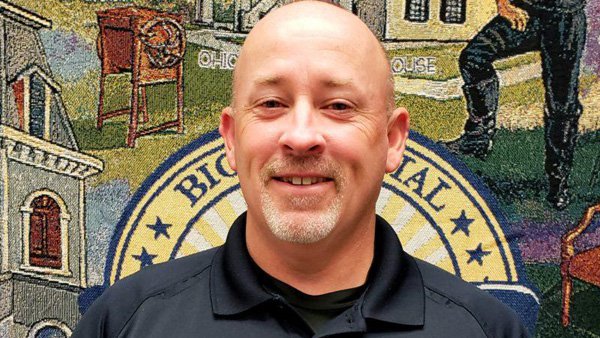 Rising Sun Police Chief David Hewitt died following a vehicle crash in February. City of Rising Sun photo.
(Rising Sun, Ind.) - Members of the class of 1987 from Rising Sun High School are coming together to start a memorial scholarship honoring late Rising Sun Police Chief David Hewitt.
Camille Boyken is a longtime friend of Hewitt, having graduated from Rising Sun High School with him in 1987.
"We were and still are a very close group of friends. Upon hearing of David's passing, the class felt as if we needed to do something more than just send flowers to the funeral," says Boyken.
In order the scholarship to be more than a one-time thing, and to take place next year, they are asking for donations to reach the $5,000 mark.
Many organizations in Rising Sun have expressed interest in supporting the scholarship. Several members of the class of '87 and the community have already made donations.
The group is thinking of giving the scholarship to a Rising Sun High School graduate who is pursuing a degree in law enforcement or town government. Eligibility on how to receive the scholarship, and how much the scholarship will be worth and are still in the works.
If you would like to donate, checks or money orders should be made out to the Ohio County Community Foundation and mailed to OCCF, PO Box 170, Rising Sun, IN 47040. The donations may be dropped off in person at OCCF, 330 Industrial Access Drive, Rising Sun, IN 47040. Donations can also be made online at www.occfrisingsun.com.
When making the donation, be sure to note that it is for the David Hewitt Scholarship.
RELATED STORIES:
"Send It": Friend Shares Late Police Chief's Advice During Emotional Farewell
Rising Sun Police Chief David Hewitt To Be Laid To Rest Wednesday
Rising Sun Schools Shift Schedule To Accommodate Chief Hewitt Visitation, Funeral
Services Announced For Rising Sun Police Chief David Hewitt
Citizens Asked To Line Up, Welcome Body Of Rising Sun Police Chief David Hewitt
Heartbreak In Rising Sun: City, Mayor Mourn Police Chief