Visitation for David Hewitt will happen Tuesday at Rising Sun High School.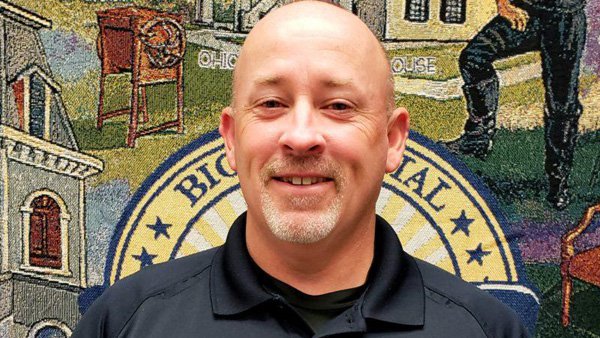 Rising Sun Chief of Police David Hewitt died in a crash on Wednesday, February 13. Photo by City of Rising Sun.
(Rising Sun, Ind.) - A police officer has been stationed with the body of Rising Sun Chief of Police David Hewitt as his family and fellow law enforcement officers await his funeral.
The 49-year-old police chief died in a crash near Vevay last Wednesday, February 13.
His body received a police escort from Louisville back to Rising Sun on Friday. Citizens lined the streets in a show of respect. Children at Rising Sun High School and Ohio County Elementary Middle School were among them.
Services for Hewitt have been announced. The public visitation will happen from 2:00 until 7:00 p.m. Tuesday, February 19 at Rising Sun High School.
Final services will happen Wednesday starting at 11:00 a.m. at the high school, where he graduated from in 1987.
The family is asking that memorial donations for David Hewitt by made to the Compton Traditional Bow Hunters.
The full obituary from Markland Funeral Home is below:
David Hewitt, 49, of Florence, Indiana, passed away unexpectedly on Wednesday, February 13th in Carrollton, Kentucky. David was born in Lawrenceburg, Indiana, on April 9, 1969 to Paul and Rosalie "Rosie" (Lawson) Hewitt. He was a 1987 graduate of Rising Sun High School. He went on to attend Vincennes University and Indiana Police Academy where he graduated with a degree in law enforcement.
David was born and raised in Rising Sun, Indiana, and after a short stint away at school and in other departments in Southeastern Indiana, he returned to his roots in 1998. His loyalty to his small corner of the world is unrivaled. David spent the majority of his life working to make Rising Sun a better place to live and raise children. He loves this town and the people who make it home.
He served southeastern Indiana as a law enforcement officer for 27 years at the Switzerland County Sheriff's Office, the Dearborn County Sheriff's Office, the Lawrenceburg Police Department and the Rising Sun Police Department, joining Rising Sun in 1998 and becoming its police chief in 2004.
David was the loving father to two children, Olivia Jane and David Andrew (Drew). He was a devoted Dad from the start, always putting his children first in all aspects of his life. He loved being a Dad, and that was evident in his blog entries, "Along the Trail" articles, and Facebook posts. David worked tirelessly to give his children the best childhood. He taught them the value of trust, the importance of humility and respect, and instilled in them a love of the outdoors. David shared many, many days in nature with both Olivia and Drew.
On October 14, 2017, David married Donna (Taylor) Hewitt. It was a love story for the ages, one that began their junior year of high school. As they graduated and went on to college, they went their separate ways but eventually found their way back to each other and were reunited in marriage 30 years later. Through this marriage David gained two "bonus" children, Jake and Sydney, who he adored dearly.
David was an avid outdoorsman. In his spare time, he could be found hunting, fishing, shooting archery, and even making sketches of the outdoors. He also spent time helping his wife, Donna, at her horse farm. He was Vice President, and soon to be elected President, of Compton Traditional Bowhunters. Through the organization he impacted many lives and gained many friendships.
David is survived by his loving wife, Donna (Taylor) Hewitt of Florence; his children, Olivia and Drew; his parents Paul and Rosie Hewitt of Rising Sun; sister Denise (Russell) Taylor of St. Leon; sister Lisa (David) Williams of Rising Sun. He is also survived by his wife's children Jake and Sydney Taylor, as well as numerous aunts, uncles, cousins, nieces, nephews, and extended family.
Funeral services will be at 11 AM, Wednesday, February 20th at the Rising Sun High School. Visitation will be 2PM-7PM on Tuesday, February 19th at the high school. Memorial donations may be made to: Compton Traditional Bowhunters, PO Box 50, Mahomet, IL 61853 (www.comptontraditionalbowhunters.com) all donations will go towards their youth program. Donation cards are also available through the funeral home. Markland Funeral Home of Rising Sun, IN serving the family. marklandfuneralhome.com
RELATED STORIES:
Citizens Asked To Line Up, Welcome Body Of Rising Sun Police Chief David Hewitt
Heartbreak In Rising Sun: City, Mayor Mourn Police Chief