Rising Sun Chief of Police David Hewitt died in a vehicle crash Wednesday.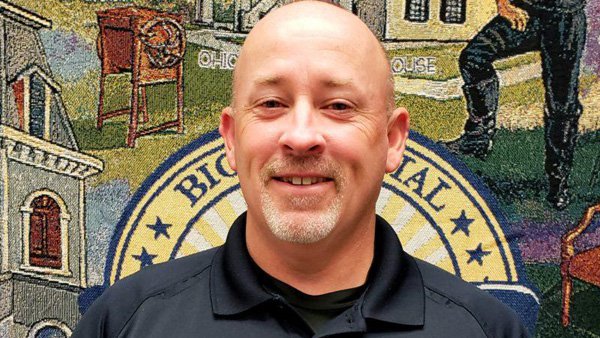 Rising Sun Chief of Police David Hewitt died in a single-vehicle crash on Wednesday, February 13. City of Rising Sun photo.
(Rising Sun, Ind.) – Rising Sun Chief of Police David Hewitt was on his way into work when his vehicle hit a patch of black ice on State Road 56 near Vevay Wednesday morning.
He was airlifted from the crash scene worked by local first responders, some of whom he likely knew personally after a nearly 30-year career in southeastern Indiana law enforcement. He was taken to Carroll County Memorial Hospital in Carrollton, Kentucky, where he later died.
Wednesday evening, his police vehicle was stationed below the flag pole in front of the Rising Sun Police headquarters on Poplar Street. A handful of flowers and a "thin blue line" flag were set near it.
"We have so much to be thankful for, because in our own little ways, he impacted our lives and made us better people. Whether he knew that or whether he was intending to do that, we're better people for having somebody like David in our lives," Rising Sun Mayor Brent Bascom said.
Hewitt, 49, had been the police chief in Rising Sun since 2004, having started with the department back in 1998. He had previously served at the Lawrenceburg Police Department, Dearborn County Sheriff's Department, and Switzerland County Sheriff's Office. Those departments issued condolences yesterday as word of Hewitt's death spread.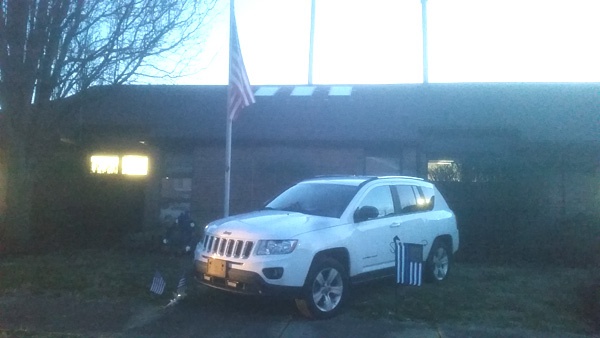 Police Chief David Hewitt's service vehicle parked beneath the lowered flag at the Rising Sun Police Department. Photo by Mike Perleberg, Eagle Country 99.3.
Bascom said Hewitt passed up opportunities he had at the Lawrenceburg Police Department in order to come and serve at a smaller department in Rising Sun.
"He knows these people and he can relate to them. He's always had that personality. He was so articulate, so intelligent. He was a tremendous asset that we're going to miss," said Bascom.
The mayor has ordered that flags in Rising Sun be lowered to half-staff for 27 days, one day for each year of David Hewitt's law enforcement service.
He leaves behind a wife, Donna, and two children, Olivia and Drew.
When he wasn't busy protecting his city, Hewitt was an outdoorsman who enjoyed archery, sketching images of wildlife, and helping at his wife's horse farm.
Visitation and funeral services for Hewitt have not yet been announced.
RELATED STORIES: