Chief of Police David Hewitt's services are being held in the high school gymnasium.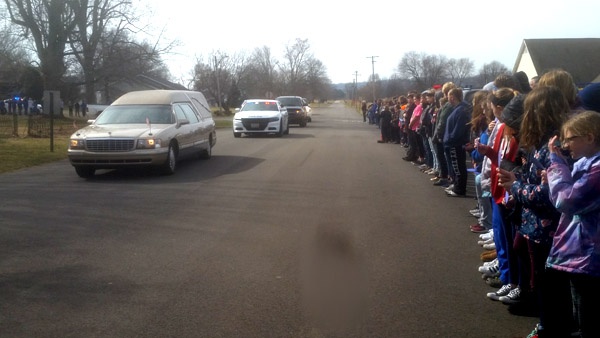 Ohio County Elementary Middle School students line the street as Rising Sun Chief of Police David Hewitt's body is escorted into town on Friday, February 15. Photo by Mike Perleberg, Eagle Country 99.3.
(Rising Sun, Ind.) - Plenty of goodbyes will be said today for Rising Sun Chief of Police David Hewitt.
The 49-year-old died in a crash last week.
Hewitt's visitation will happen Tuesday from 2:00 until 7:00 p.m. at Rising Sun High School. All are welcome to pay their respects.
The funeral service will be held Wednesday starting at 11:00 a.m. at the school.
To accommodate the services, Rising Sun-Ohio County Schools will release students early on Tuesday, then be closed all day Wednesday.
"Chief Hewitt has played a major role in the safety of our school system and students through his role in our safety planning commission and assistance in writing a state grant to begin our SRO program. He will be missed and we are honored to host his services," said RS-OC Schools Superintendent Branden Roeder.
Flags in Rising Sun remain at half-staff for 27 days, one day for each year of Hewitt's service in law enforcement in southeastern Indiana.
More information on Chief Hewitt's services and obituary can be found at https://www.eaglecountryonline.com/news/local-news/services-announced-for-rising-sun-police-chief-david-hewitt/.
RELATED STORIES:
Services Announced For Rising Sun Police Chief David Hewitt
Citizens Asked To Line Up, Welcome Body Of Rising Sun Police Chief David Hewitt
Heartbreak In Rising Sun: City, Mayor Mourn Police Chief