The charges stem from a federal investigation into irregularities with the finances of Lawrenceburg Municipal Utilities.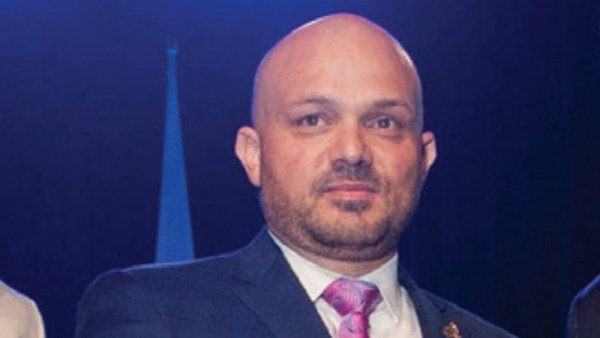 Olin Clawson. File photo.
(Lawrenceburg, Ind.) - Multiple felony charges have been filed against the former Superintendent of Lawrenceburg Municipal Utilities.
According to a probable cause affidavit filed on Tuesday, Olin Clawson is facing three counts of Theft (Level 6 Felony), four counts of Official Misconduct (Level 6 Felony), six counts of Forgery (Level 6 Felony), four counts of Perjury (Level 6 Felony), Attempted Obstruction of Justice (Level 6 Felony), and Corrupt Business Influence (Level 5 Felony).
The charges stem from a federal investigation into irregularities with the finances of Lawrenceburg Municipal Utilities.
Clawson served as the Superintendent of LMU from approximately November 18, 2014, to January 2, 2020 - when Lawrenceburg City Council voted to relieve him of his duties amid allegations of unapproved spending.
The charges filed against Clawson stem from a number of purchases, misrepresentations, and reimbursements that allegedly took place between July 2018 and November 2019.
Since LMU is primarily funded by user fees, the Superintendent of LMU has a fiduciary duty to spend LMU funds in a manner that best serves the interests of LMU's utility customers.
Poco Buckles & Saddles
On approximately July 8, 2018, Clawson allegedly made a $3,500 payment to Poco Buckles & Saddles in New Mexico, a business owned by Clawson's uncle. The purchase was for large custom rodeo-style belt buckles to be given as awards at the 2018 Whiskey City Rodeo. The payment was made to Clawson's personal credit card and a true and accurate copy of his credit card statement was obtained from the credit card company confirming the amount, according to the probable cause affidavit.
In September 2018, Clawson allegedly submitted a voucher requesting that the Lawrenceburg Clerk-Treasurer issue a LMU check in the amount of $9,067 to reimburse Clawson personally for two official LMU expenses made on his personal credit card.
The first payment of $4,557 to Rocky Mountain Clothing Company appeared to be legitimate, according to investigators. However, the second payment to be reimbursed was allegedly for a $4,500 charge at Poco Buckles & Saddles. To validate the purchase, Clawson allegedly attached a manipulated electronic receipt to the voucher submitted to the Clerk Treasurer. No detailed invoice was provided at that time, according to court documents.
A deposit of over $9,000 was made payable to Clawson, resulting in unjust enrichment of $1,000 on this voucher.
When the voucher was reviewed further, Clawson was asked to show more documentation. He allegedly submitted a manipulated partial AMEX statement with everything blacked out except a charge from Poco Buckles in the amount of $4,500.
Following his termination, the City of Lawrenceburg confiscated Clawson's work computer, which was owned by the city. A search of the computer was conducted by the FBI. During the search, investigators allegedly located software capable of manipulating documents.
A second instance with Poco Buckles & Saddles was listed in the probable cause, where Clawson charged $5,200 to his personal credit card for the purchase of custom-made rodeo-style belt buckles. Again, Clawson allegedly submitted a voucher to the Clerk Treasurer showing that he paid $6,200 to Poco Buckles & Saddles.
Court documents also show a fraudulent electronic receipt purporting to be for a January 2019 payment for over $19,000 at Poco Buckles. The owner of the store told investigators he did not charge Clawson that amount. No voucher was submitted for reimbursement, but investigators believe Clawson anticipated submitting a third fraudulent Poco Buckles voucher.
Other Irregularities
The probable cause affidavit also lists misrepresentations to the Indiana Municipal Electric Association (IMEA) and the Indiana Municipal Power Agency (IMPA). According to investigators, IMEA had agreed to pay $10,000 to sponsor the 2018 Whiskey City Rodeo. The sponsorship was to include naming rights to the belt buckles provided by Poco Buckles, among other considerations.
However, the belt buckles said IMPA instead of IMEA. Clawson contacted IMEA, who agreed to continue to provide their sponsorship. Clawson then contacted IMPA and allegedly asked that they pay for the belt buckles. The organization agreed but wanted to be invoiced. The invoice they received allegedly was in the amount of $10,700, which was $2,000 more than Clawson had paid for the buckles.
Willard Clawson, the owner of Poco Buckles, was asked how such a mix up could happen. He told investigators that before he makes the buckles, he sends a rendering proof of design that had to be approved by Olin Clawson - who allegedly approved the proof showing IMPA.
Clawson is also accused of submitting fraudulent vouchers asking for reimbursements from Delta Airlines and The Embroidery House.
According to the probable cause affidavit, Clawson provided his signature on each of the aforementioned vouchers, attesting "that the invoice(s) is/are true."
In December of 2019, Clawson appeared to repay some of the alleged unjust proceeds. The payments were made around the time the ISBOA auditor was in the LMU and Clerk Treasurer's offices conducting an audit of LMU finances.
During the course of the investigation, LMU's accountant, Collin Browning, was interviewed by the FBI. Browning stated that Clawson came to him and asked if he could write a personal check to LMU and have Browning tell the Clerk Treasurer that Browning forgot to deposit Clawson's check in the general ledger reimbursing LMU. Browning declined to lie for Clawson, according to court documents.
Today, Clawson filed a demand for jury trial and a motion to withdraw warrant and set an immediate initial hearing.
*All charges are merely allegations and the person accused is presumed innocent until proven guilty.
RELATED STORIES
Lawrenceburg City Council Votes Out LMU Director Olin Clawson
UPDATE: Lawrenceburg City Council Settles $1 Million LMU Payment
$1.3M Utility Pole Project Explained; City, LMU Appear Ready To Settle It At $1M
Election Opponent, LMU Director & Former Councilman Question L'burg Mayor's Sewer Pump Purchase
LMU Tent, Financial Allegations Break Down Into War Of Words