Discussions between Lawrenceburg Municipal Utilities and the Lawrenceburg Clerk-Treasurer's Office have resulted in the invoice being reduced from $1.3 million to $1 million.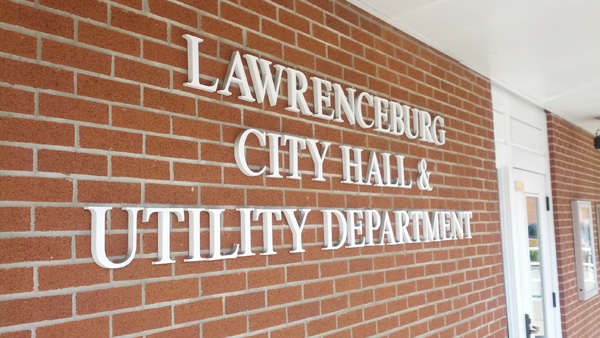 File photo
(Lawrenceburg, Ind.) – A $1.3 million bill for relocation of a damaged utility pole goes well beyond the cost for moving one pole, Lawrenceburg Municipal Utilities director Olin Clawson told the Lawrenceburg Utility Service Board Monday.
"We did everything that we thought we were supposed to be doing, everything we were asked to do. We've taken a lot of criticism over this and this thing has been dummied down to a single pole being moved," Clawson told the board hours after a Cincinnati Enquirer report about the pole project was published.
Eagle Country 99.3 also reported about city officials' surprise in being handed the seven figure bill for the job earlier this month.
Last year, LMU was asked to take on the city project to relocate a metal utility pole at the corner of Front and Fourth streets. The pole has been frequently hit by passing trucks making a turn at the intersection.
Recently, the pole has taken another hit. Still standing but badly bent, it is supporting utility lines which have dropped within an arm's reach of any pedestrian on the sidewalk. It has also made a parking lot entrance impassable.
After the hefty LMU invoice to the city at the end of August, Lawrenceburg City Attorney Del Weldon advised Lawrenceburg Common Council not to pay the bill. Weldon's analysis of the bill raised questions with wages, administrative fees, and other items.
"This million dollar pole is not just a million dollar pole. There is a whole lot of work which went into it," agreed USB member and councilman Paul Seymour. The USB is made up entirely of city council members.
Seymour defended LMU's financial status following Weldon's statement that citizens should be worried about $10 million in utility reserves leaving the balance sheet.
"All of a sudden how this money disappears is because we were in a good mood and everybody is cheerful because we're going to put fiberoptics in this town and bring things to people. Does anybody for a second think that stuff comes free? We didn't go out and bond this project," lamented Seymour.
"We've got so much to be proud of here, but all we're getting is a bunch of bad articles."
Seymour demanded the USB to take control of its decisions, not attorneys. Among that, the city should be prepared to put more money toward the pole relocation project because it is not yet completed, he cautioned.
Fellow councilman and USB member Mel Davis, the city's former utility director, agreed that the project isn't just moving the pole.
"Somehow, those wires had to disappear. That's why there is the conduit bank. I think Mr. Clawson also put in conduits for the fiber company and the cable company," Davis explained.
"There is wire that has to be purchased. There are splices. There are termination kits that have to be purchased. They aren't cheap. Conduit running up a pole is not cheap stuff."
Clawson explained many of the costs in the project which led to the seemingly inflated bill. Although the project focused on the damaged pole, there were actually six poles which required work, he told the USB. One of those poles was an engineered pole costing around $90,000, according to Clawson.
Other costs included seven new conduits, each running several hundred feet beneath a concrete parking lot which had to be cut to allow for installation.
All the work was done with only a brief power outage to a nearby bank, he noted. To do so, nine 7,200-volt conductors had to be re-routed and various linemen had to perform "slow, arduous" work around poles with dozens of potentially deadly contact points.
Also, other utilities had infrastructure in the vicinity, including CenturyLink.
"To minimize this to a single pole being changed is a ridiculous statement. It is much more than that," remarked Clawson.
All the controversy surrounding LMU has led to a decline in morale at the city-owned utility, Clawson acknowledged.
Clawson renewed his claim from the September 3 city council meeting that the project was a City of Lawrenceburg project with which LMU reluctantly agreed to help on. The city engineer, Mike Clark, was criticized for not taking leadership on the project, which Clawson said should have been put out for bid by the city long before it got to this point.
The LMU director also remained adamant that he was the first to raise concerns about the cost of the project. He again pointed to a February 6 email to Mayor Kelly Mollaun and USB members about the high costs which were becoming apparent just a few weeks into the pole relocation work.
"I wanted to make it a matter of record that I did not like the project. I did not like that this project was laid on our lap to complete. The only response I got out of this was from the mayor and he said 'Thanks Olin. I will address with Mike Clark,'" Clawson told the USB.
Lawrenceburg Clerk-Treasurer Richard Richardson said he and LMU's accountant met and reached agreement on some of the charges in the bill. Some hurdles must still be overcome, including documentation of work hours by contractor Sargent Electric on the Fourth and Front project, added Richardson.
The discussions have resulted in LMU removing overtime, benefits, and an administration fee being removed from the bill. As a result, the LMU invoice now stands at about $1 million, Richardson said.
Mayor Mollaun asked that the contractor's work logs be provided to ensure the price they charged LMU was not inflated. Clawson expressed certainty that their workers were on the site.
"I agree that it's just not a pole move. I get that," Mollaun said, adding that LMU had given previous estimated costs of the project at around $400,000 as recently as June.
Clawson said hundreds of thousands of dollars more will need to be spent to complete the project, including relocating CenturyLink and Comcast overhead lines to underground.
"The pole has to come down," said councilman Tony Abbott. "We have got to move these wires. We got to move past this point somehow and get on and finish the thing. That pole is going to come down and it's going to hurt somebody."
Seymour suggested a temporary pole be put in place until the other utility companies can relocate their cables. Clawson said LMU will put up a new pole, but called it an embarrassment that the project on city engineer Clark's desk has come to that.
Abbott asked why Comcast and CenturyLink haven't planned to relocate their wires. Clawson accused of Clark of failing to communicate the need to those companies.
Clawson later lamented about how the Fourth and Front pole project has been "nit picked" by other city officials. He said LMU has not billed the city for jobs including lights on Hollywood Boulevard, the new Lawrenceburg Civic Park, and infrastructure on Pribble Road.
Mollaun said he has only questioned the escalation of the bill from $400,000 up to $1.3 million. Clawson pointed again to his February 6 email.
"We're questioning highly skilled labor working with the kinds of things that went and we're making a big deal out of this. This is ridiculous," said Seymour.
Seymour motioned that the USB favorably recommend city council pay the lowered $1,050,462 bill at council's next meeting. The motion passed unanimously.
Clawson said LMU would see that a temporary pole is installed. The USB also asked him to work on getting the other companies to come and move their lines to the new pole, eliminating the low wire risk.
Accountant Enlightens USB On LMU Finances
Later in the meeting, LMU attorney Colin Browning came to the podium to set straight where the $10 million in cash reserves at LMU can be accounted for. He said LMU will begin giving a financial update to the USB at each of its twice a month meetings.
Total net assets of LMU are roughly $9 million, said Browning. He explained Weldon's accused loss of the $10 million in reserves can be found in the electric utility's $6.4 million in receivables. That includes $4.1 million loaned to the city's new fiberoptic internet service, $1.5 million in August billing to customers, and other miscellaneous invoices.
Another $600,000 can be attributed to unpaid electric bills connected to the city's ongoing litigation with one of its largest customers, Lawrenceburg Power LLC.
Other monies are invested in projects that are in progress and not yet listed under capital assets.
"$10 million is not gone," said Browning. "$10 million has been reinvested in our system to keep our system young. I think any city or utility would be interested in that."
Browning said the Whiskey City Rodeo, happening this week in conjunction with Lawrenceburg Fall Fest, has to-date expenses of almost $90,000. With revenues of around $140,000, the rodeo's profit to date is about $52,000.
"My staff has gone out and worked their tails off to raise enough money to not only pay for this year's rodeo, but assume the debt that we had leftover from last year," Clawson added.
Clawson later went into the city's utility rates, calling them among the lowest in the state. He has previously expressed a need for rate increases, but ordinances to raise rates last year were vetoed by Mollaun.
"We're good here in the Lawrenceburg. Nothing's wrong. Everything is running good," said Seymour.
RELATED STORIES:
Election Opponent, LMU Director & Former Councilman Question L'burg Mayor's Sewer Pump Purchase
LMU Tent, Financial Allegations Break Down Into War Of Words
$1.3M For A Utility Pole Unleashes Firestorm Between L'burg Administration, Utility Director
Lawrenceburg In "Tents" Debate Over Utility Spending
Power Plant Owner Sues Lawrenceburg, LMU Over Threat To Cease Water, Sewer Service